Having a pet is a comfort to many children in the world. It takes many forms: children have stuffed toys and others prefer an animal which is often domesticated.
For Malinda Narine, who is three years old, her pet is a small iguana and she would have it with her all the time.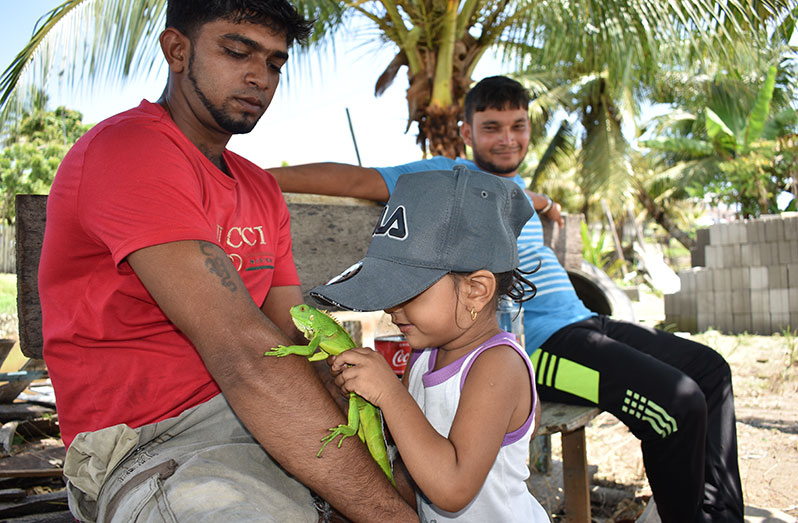 Within a short space of time, she has grown quite attached to the endangered species and would allow it to go on a tree to feed on leaves.
The pet iguana is quite tame, doesn't bite the child, and seems very comfortable in her company.
Mikey Narine, her father, told the Pepperpot Magazine that Malinda's mother gave birth to her in the interior, so she got accustomed to the bush and animals from a tender age she knows many things.
She took a liking to iguanas when he started to rear them and she wasn't afraid or timid in any way and one day asked if she could have a pet iguana.
He hesitated and later decided to get her one. Five days ago, he acquired a small iguana and allowed his daughter to have it as a pet after he tamed it.
The 26-year-old related that he has been in contact with iguanas since he was 12 years old. He is very familiar with their behaviour and was afraid it would bite his child but relented after seeing how comfortable she was with it.
The father of three added that he is originally from Mahaicony, East Coast Demerara, and was spending some time at his in-laws living at Parika Façade.
"My daughter, Malinda doesn't like to stay at one place for long so we would come here and stay for a bit because she grew up in the bush she likes the outdoor and living in nature," he said.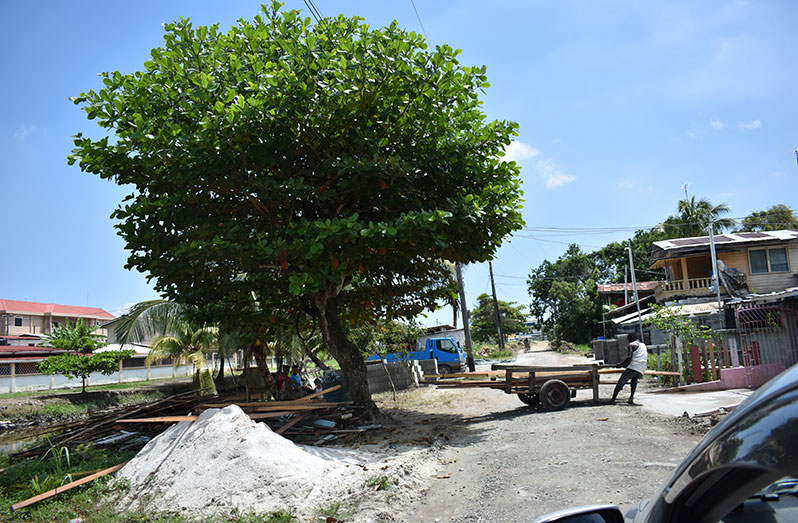 He told the Pepperpot Magazine that Malinda is so attached to her pet she would take it to bed and everywhere she goes.
"I am not worried that she will ill-treat the iguana because she was taught to take care of it as her own and I will be around to ensure that happens," she said.
Narine has been rearing iguanas for the past 14 years and is versed in it and isn't surprised that his daughter wanted such a pet rather than have a dog like most children.
Having the pet for just five days, Narine stated that Malinda would have to find a name for it soon and he is confident his daughter will.
Narine, his daughter, Malinda and a friend were outside, under a shady tree with the pet iguana, when the Pepperpot Magazine visited Parika Façade that day.
The group seemed very comfortable with the outdoor setting and was basking in the bright sunshine of that day when it did not rain at all.
Narine reported that they have a wooden bench under that tree and they would have a cook-out and barbeque at weekends.
Renting
Further down the same street is the home of Christine Rampersaud, a mother of two, who is renting a small wooden unfenced cottage.
The home is well-kept and very tidy, and she moved from Wakenaam Island, Essequibo River two years ago to Parika Façade.
The 25-year-old told the Pepperpot Magazine that the place is relatively safe during the day, but it is very dark at night since they do not have electricity and water.
Rampersaud added that the road is also in a bad state and at lot of times the cars do not want to go there and walking out takes a while, since it is a good distance on foot to the public road.
The housewife stated that life is not always as she wanted it but she is trying to cope with the hurdles along the way.
Her husband works on a fuel truck and he is a local of Parika.