Cepheil Johnson is a poultry farmer and has converted his backyard into a mini-farm where he is rearing more than 200 meat birds, his only source of income.
He is a resident of Parika Façade, East Bank Essequibo and the father of three, who is originally from Mahaicony, East Coast Demerara.
The 42-year-old told the Pepperpot Magazine that he has been living in the village for the past 12 years and he ended up there because he was seeking a better life and then he got married and had children.
Life for Johnson and his family is quiet and peaceful because they all have different roles in the home and his wife works at a poultry business at Barnwell, a few villages away and his children are employed and also of school-age.
"Life here is good once you work and can earn but we need a little development to enhance the lives of the people here," he said.
The shop owner/security guard
Lovern Couchman is the mother of seven and she has one of the small shops in the village and is a full-time security guard who works on a shift system.
She is originally from Supenaam, Essequibo but came with her parents to live at Parika Façade when she was just two years old.
The 44-year-old reported that she has been living in the village for 40 years, and six months ago, her bed-ridden mother passed away after battling illness for many years.
Her father is alive but is wheelchair-bound, and he is not in good health, and he is 76 years old and is in her care.
She recalled when they first relocated to Parika Façade, the place didn't have houses back then and it was overgrown with bushes and there was a small muddy track.
The mother of seven stated that more people began occupying the land over the years, the bushes were cleared, and the place became populated.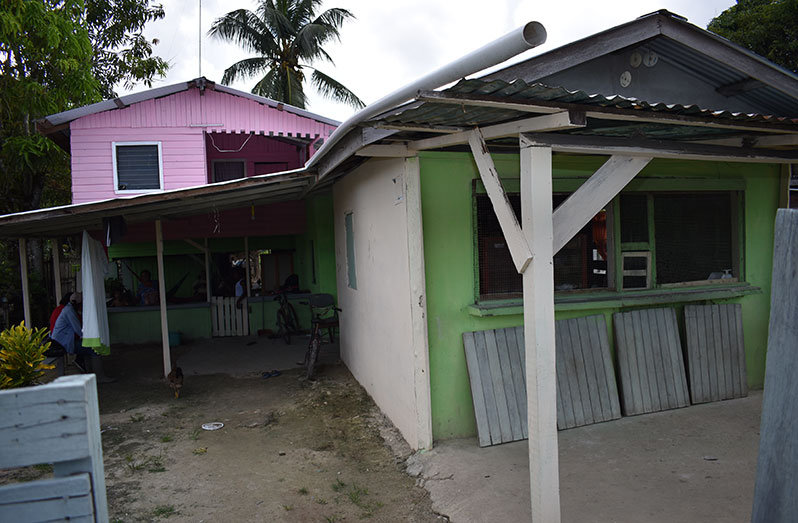 Couchman recently got married and has a child for her new husband and four other children for her first husband, who passed away and two other children from a previous common law relationship.
She lives in an extended family setting and her four daughters are of age and are gainfully employed.
One of her four daughters is a teacher, another is in training as a 911 operator, and one works at a supermarket in Parika, and another is employed at a pharmacy while her eldest son is a miner and lives in Bartica.
Couchman is a grandmother of two and is living a good life at Parika Façade and stated that life would be even better if she can benefit from electricity and potable water supply.
"Life here is okay except we don't have light and water and music is a real problem here, all day and night but otherwise it is a good place that needs a bit of development because we have a lot of school children living here," she said.
The CIIP worker
Meanwhile, another neighbour, Shondell Gibson, is employed at the Mora/Parika NDC as a CIIP worker.
She is the mother of four and has been living in Parika Façade for the past eight years.
The 47-year-old added that she lived at another section in the village but relocated to Parika Façade eight years ago, hoping for a better life.
"I used to buy and sell ground provisions but it is perishable and when sales are bad it does leave on me and spoil and there are no returns with such a job so I had to quit and 11 months now I gained employment with the Parika/Mora NDC," she said.
The Parika Façade resident related that if they get water and light, life will be enhanced for them because they need it in every aspect of their live.
Gibson noted that buying water to drink and cook is very expensive and as a mother of four it is difficult to have many things since she is not financially capable.