Veronica Harrinarine is a resident of Parika Façade, East Bank Essequibo and she is the mother of four, whose house is on the government reserve.
That land has since been identified as the site for a new well to be drilled and she will have to relocate to another plot within the village.
She reported that she has been at the spot in her small cottage for the past eight years and she is a housewife.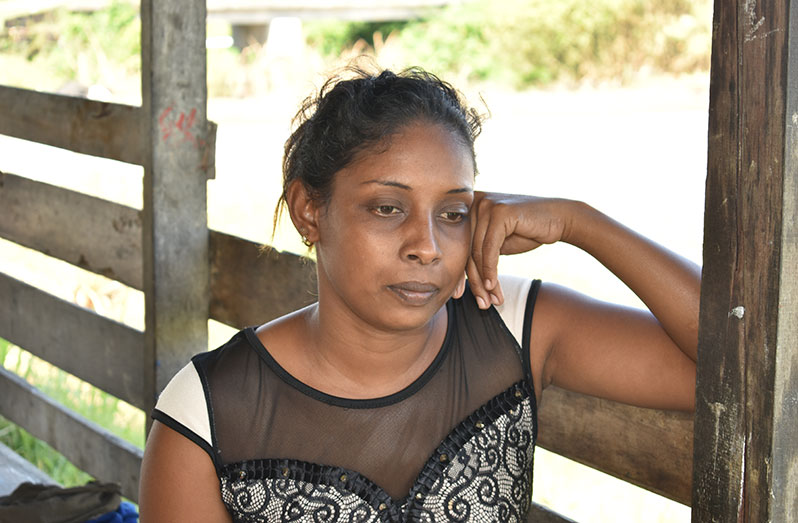 At the time, she was preparing a pot of cook-up-rice, a favourite of her children, all of whom were at home.
Harrinarine is originally from Salem Parika and was residing in the backdam section of Parika Façade but due to flooding she had to move to the location she is living presently.
The 30-year-old told the Pepperpot Magazine that they do not have potable water or electricity and she would use water from the nearby canal for chores and buy drinking water.
As for electricity, she would use a lamp at night to illuminate the house.
"We have been given notice to relocate because this land is the site where GWI well will be and we will go to the plot in the same village when the house is completed," she said.
Harrinarine stated that she knew it was a squatting area but she had nowhere else to go and they build a small house and began living there out of need.
She noted that most of the lands are privately-owned and the rest is government reserve, but many people began occupying the land many years ago and some have been there for 40 years.
Her husband, Deonarine Harrinarine called "Boyo" is a manual push-cart operator at Parika Junction and he would leave home for work before 04:000hrs daily, return home for lunch at 11:30hrs and then again at 18:00hrs.
She pointed out that he was a seaman but when she got her first child, a daughter 12 years ago he quit that job and began the manual push-cart work.
"He wanted to be closer to home and he started that job working with himself and he was earn and we are okay," she said.
When Harrinarine is not doing chores she is a part-time hairdresser and nail technician, who would take a few clients in her neighbourhood.
She describes life in Parika Façade as good except they need development such as potable water, electricity, internet and landline phone since all her children are of school-age and they need to utilise technology.
The 'jack of all trades'
Meanwhile, her next-door neighbour, Ameer Fazil, a father of one reported that he is a farmer and 'jack of all trades' meaning whatever work is available and in season he would do.
The 28-year-old added that the road needs upgrading and the internal streets are mud dams and when it rains it is not accessible like the one he is residing at.
Fazil told the Pepperpot Magazine that he has a plot of farmland at Parika Back where he has only cassava and he supplies wholesale buyers from the city and Berbice.
When there is enough he would sell at the nearby Parika Market.
He has been in the village for many years and haven't seen much development but would like to benefit from the basic necessities such as potable water supply and electricity since they have a lot of small children in the community and there have been incidents of crimes.
"At night this place is very dark and a lot of snatching and break-ins happen here so it would be good if we can be regularised and get the infrastructure we need to have a better standard of life here," he said.
Fazil like many others echoed the same concerns and they are of the hope they will get the facilities they need.