By Michel Outridge 
FORMERLY Number 30 Village, Union is a community nestled between Number 29 and Tempe villages, located on the West Coast of Berbice and is home to about 200 people, who are either Indo or Afro Guyanese.
The village runs from the sea defence to way down to the vast backlands and is home to a new housing scheme funded and built by Food For The Poor (FFP) Guyana which has 64 houses and a playground.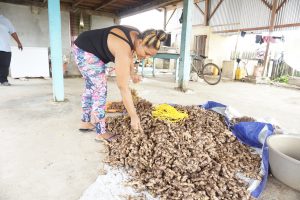 The villagers sustain themselves through cash-crop farming, cattle rearing and some are some self-employed; and it is said to be the 'village of teachers.'
The community has many shops and from the look of things it is indeed a very quiet and scenic place to reside, but the landmark of that place is the large Seventh Day Adventist Church located on the Public Road, which is community-based.
The Pepperpot Magazine visited the village of Union, West Coast Berbice and interacted with the residents, all of whom were eager to talk and shared their bit.
Kamesha Fraser, a teacher, stated that Union is her home; the only place she wants to be because she is familiar with the people.
"Union is a village where anyone can come and feel at home because we are a very friendly people and we accommodate anyone," she said.
The 26-year-old stated that life in Union is very good, providing you are employed or have a small business for your general upkeep and income.
She added that they have good roads, street lights and good drainage and most people live in harmony, because they all know each other, being a small country-side village, all the people are locals.
"Having siblings, I come from a large-size family, and with five siblings we live in an extended family setting and my dad is East Indian and my mom is Afro-Guyanese so we are people of mixed race, but we are good with that and all," she said.
Fraser told the Pepperpot Magazine that she is hoping to extend her small business in the new year by bringing dasheen, Morocut salted fish, turmeric and wild meat in addition to the ginger and yams she buys from the North West District, Region One (Barima-Waini).
The mother of one added that she would make buy ginger and yams in large quantities and when it arrives at the wharf, she would go and collect same after which it is either sold wholesale or retail at home or at the Rosignol Market.
"For me, being a teacher is an income, but to supplement my income I have my small business and it is something I wanted to do for a long time and I got the push from my family and I did it and I am looking to expand in 2020," she explained.
Fraser stated that anyone can make life in Union because it is better to be self-employed and it has a lot of space to mind sheep, goats, cows and livestock on a large scale.
Fraser reported that for 2020 she remains positive that great things will happen; as such, she will make room for that kind of positivity in her life.
Moonlight Cook-Out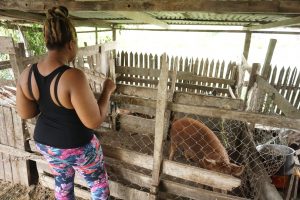 On Old year's Night as customary, the entire street came together and contributed ingredients for a large pot of cook-up rice which was prepared "bush cook-style" at the head of the street.
Fraser noted that annually it is a tradition and the villagers call it the "Moonlight Cook-Out" with all kinds of meat in the pot to complement the rice after which they will enjoy non-alcoholic beverages.
"Everybody in this street does come out and assist with the pot and when it is done we sit and eat together and then break the new year in church, because we are a God-fearing people," she said.
That family will, however, usher in 2020 in church, a few villages away, the entire family will head down to Yeovil Pentecostal Church.
"We ain't short of anything here and that's how people should live in peace and in unity for development and fostering good relations, "she said.