By Michel Outridge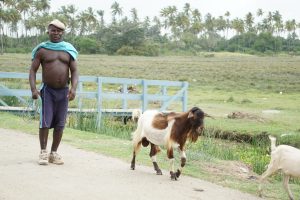 As a result, of a housing project funded by Food for the Poor (FFTP), Guyana 64 houses were built to accommodate the same amount of families at Union, West Coast Berbice.
This new housing scheme was established about six months ago and it is outfitted with a play park for the children in the community, which is very convenient.
The Pepperpot Magazine spoke to Monica Hero, one of the proud homeowners, who was at the time of the visit, sitting on her verandah, enjoying the cool back dam breeze.
She disclosed that she was living at #28 Village before with relatives and today she has her own home, compliments of FFTP and she is very thankful.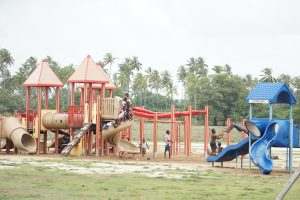 Hero has a daughter and she is very comfortable in her new house which has solar power and the housing scheme has good roads, bridges and drainage.
"I am a hairdresser and in 2020 I want to be able to work from home where I hope to establish my small business but right now I am working at a salon," she said.
The FFP new housing scheme is called 'Solus Christos' at Union Village, which is situated nearest to the backlands area.
This scheme has shops and a church and residents are also farming and rearing cattle, on a small scale.
Life in the country
Gladford Angus was on his way home with his goats which he was grazing in the nearby pasture.
The 40-year-old told the Pepperpot Magazine that he is a watchman at nights and in the day he would tend to his goats and do other chores.
John Usher is also a resident of Union Village and is an overseas-based Guyanese, who returns home for the holidays every year. He would come home with his wife to enjoy Guyana, his homeland, he said.
He added that he would visit two to three times per year and is very pleased with the development in the village because a few years ago the area where his house is used to be a swamp and now large houses have been built.
Usher related that country life is good. A native of Union Village, he admitted that he comes back here to enjoy the simpler things in life such as gardening where he has crops for his own kitchen.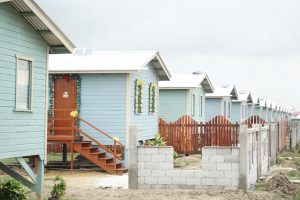 The 68-year-old admitted that he comes home as often as possible to bask in the quiet and peace of his country-side home and his country.
Seventh Day Adventist Community Service
Meanwhile, the Pepperpot Magazine also met Yvette Price, who is the Leader for the Community Service of Union Village Seventh Day Adventist Church and the Chairperson of Number 28 Village.
She reported that the church is the place of love and they as a group does fundraising activities to assist members of the village and it is a task she has been at for the past seven years and describes it as a 'great joy' to serve the community.
Price added that the group would look at the needs of the people and assist in whatever way possible. She added that they will soon provide 400 concrete blocks to a fire victim to aid in the rebuilding process.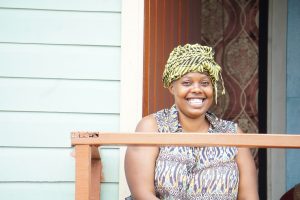 Apart from that, they have a school feeding programme, a clothing and footwear drive and also assist the needy with school supplies, food baskets and meals.
Price stated that every month they hand out three food baskets to the needy through their "Love in Action" programme and from Ithaca to Kingelly villages they have an active clothing drive all year.
"From Ithaca to Kingelly villages we have seven Seventh Day Adventist Churches and one company at Number Five village and we have all community-based programmes which cater for the needy," she said.
For the New Year, they will be doing community work in Bush Lot and from their in-gathering funds, they will assist the people of that village in whatever they can.
"We meet the needs for the people and bring them to Christ as well because we see how people live and we comfort them and we pray with them and encourage them to give their lives to Christ, ' she said.