By Marissa V. Foster
Samantha Sheoprashad is a well-known advocate in Guyana. Her successful projects and programme s have gained her a spot in many hearts. She has truly touched the lives of many young people. Her childhood was that of a simple country girl growing up in a typically male-dominated environment; catching fish, farming and playing cricket was her pastime hobbies. Samantha also spent a lot of time going to the Mandir researching scriptures, reading, teaching and singing bhajans. She was also aiming to become a female priest at a very young age. Education was stressed upon by her parents at a very young age. Her education began at the Enterprise Nursery School, then Enterprise Primary School then unto Annandale Secondary School. She pursued a Bachelor's Degree in Computer Science at the University of Guyana then studied Entrepreneurship and Innovation through the Global Entrepreneurship Programme in University Massaschutes Lowell in 2016 and Leading Change through the Queen's Young Leaders Programme with the University of Cambridge in 2017.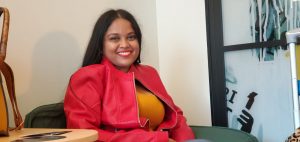 Her experience thus far has been a great teacher. For the past 19 years, she lived and travelled across Guyana, London, United States, and the Caribbean volunteering, writing research papers, meditating, studying, speaking at forums (both international/local) and sharing wisdom. This journey, for her, was mostly about self-discipline, self-exploration, self-confidence, and service to humanity. Hinduism taught her levels of devotion and society was her canvas to practice some of the most difficult levels of devotion. At 13, her mandir was preparing her for loving the planet, the trees and animals and loving herself through eating healthy, staying healthy things to herself and being mindful. As a child, she did not realise that she would grow up to find these teachings useful. Her only desire is to serve, to make a difference and to help people live more meaningful, find purposeful and become better versions of themselves; that is her purpose.
Hardships
Samantha suffered from depression which led to her being suicidal at one point, she said. However, with the right type of counselling and therapy, she recovered and took this opportunity to devote her life to creating awareness, opportunities to help persons with mental health issues. She created several videos highlighting young people's views on Mental Health in Guyana, self-care work training and counselling services. One of her most popular projects is Mental Health Matters, Stay Alive app and an article published on the Leading Change website. Her innovative side has merged significantly with Technology, Strategies, and people to create solutions to solve social issues such as our high unemployment rate, Mental Health and high failure rate for Mathematics in Guyana (MathGuru).
Recognition
Sheoprashad is an award-winning Youth Leader, Youtuber, Student, Software Developer and Social Entrepreneur. She is also Co-founder of Trifinity Solutions; a Digital Marketing Agency. Among the titles, she also served in the capacity as Global Peace Ambassador-Guyana, Queens Young Leader 2017 (Winner), Caricom Youth Ambassador, ICS-30 Under 30 Young Emerging Leaders and Commonwealth Youth Representative. For the past 17 years, she has been working with the Youth Department locally to empower young people in Guyana, the Caribbean, North America, and the Commonwealth. She has made tremendous contributions to the Guyana National Youth Policy Consultation. Projects include creating awareness on the Sustainable Development Goals in Schools, Free Education, Be-Youtiful, Finding Jobs for Young people, Entrepreneurial Camps and Mental Health Matters. In her computer scientist Cap, she dedicated her Master's funding to implement award-winning apps; Stay Alive and Eco-naire which has leverage local impact to force policymakers to rethink Mental health and unemployment issues being rated very high in the world records.
As if that is not enough, she co-founded a Tech company called Trifinity Solutions, which has been providing cutting edge Technological Solution System, Digital Branding & Business Coaching for Small Business and specialize in working along with startups and new/budding entrepreneurs to build, grow and maintain their digital presence. Samantha also initiated the Facebook Developer Circle Lead in Guyana launching with 150 Guyanese in attendance that focuses on the importance of the ecosystem for sustainable development in Guyana. She recently returned to Guyana from attending the Facebook F8 Summit and North America Developer Lead Summit which focuses on providing developers and businesses with resources to bring the world closer together through innovation and creativity.
When asked what advice she has for young people with similar stories to her, she stressed by saying, "I would say to young people in my field to never give up. Stress and challenges are inevitable. Just find opportunities to learn and grow from it all. Forge and develop your own destiny no matter what the world says about you. You can achieve almost anything you want to – if you want to.?? The great thing about words is they are powerful. The problem with words is they are powerful. If you don't like a word change it. If you don't like a thought – change it. If you fail – try again." Samantha continued by saying, "Every failure arms you with real change; real lessons and real possibilities. ??Think of the word 'Impossible' as two words: I'm possible. ?It isn't about how hard you got hit but it's about how hard you got hit but still moving forward. I would encourage finding a balance between what you want to do and what you can afford to do will be much easier. You will either be released from an unwanted and expensive commitment or discover a new way to adjust your lifestyle. It's all about recognising opportunity when it arrives and is flexible enough to make the most of things. Understand that a small and unpleasant adjustment now will yield satisfying and enriching benefits for years to come. Self-care is important!"