ON Sunday morning following the grand celebration of Victoria's 180th Anniversary, the Victoria Youth Leadership Awards Club (AYLA) held a clean-up exercise at the Victoria Community Centre Ground where the event was held.
Colin Hunter, an elder at the Victoria Seventh-day Adventist Church stated that, the AYLA embarked on the initiative to host a clean-up exercise as a means of giving back to the community.
"Today we have come out to keep the brilliance of the village even though it needs much more to be done; we can just do what we can in terms of the clean-up exercise. We had lots of garbage around after the event, bottles, bags and all the like," Hunter stated.
He added that, one of the AYLA's goals is to keep its community clean and 'green' and promote positive development not only in Victoria, but also in every village in Guyana. "We have tried to lift the environment and keep it clean and 'green' and this is part our initiative, whenever and in whatever way we can be of positive impact we will try our best to do so. We are pleased this morning to be associated with this clean-up exercise and we're grateful for the opportunity and we look forward to share in what ever activity that lends a hand to positive development," Hunter stated.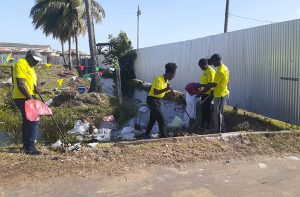 Samantha Williams, a member of the AYLA club noted that, the clean-up exercise is the club's way of giving back to the community and promoting a 'green' economy. She added that the club will be donating three bins to the community which will be placed at strategic points in the village.
The AYLA club was created earlier this year by members of the Victoria Seventh Day Adventist Church. The club aims to promote the development of the youths in the community; the club intends to host an activity every Sunday for the youths of Victoria to engage them in arts and craft, to assist their creative, psychical and spiritual development.