THE Eversham Primary School, located on the Corentyne Coast, recently received a significant boost to its Science, Technology, Engineering and Mathematics (STEM) Laboratory.
A cheque for $400,000 was handed over to the school by Dr. Keith Cummings, Assistant Professor of Medicine and Attending Physician at the Brooklyn Hospital Center, New York City. He is a former student of the school.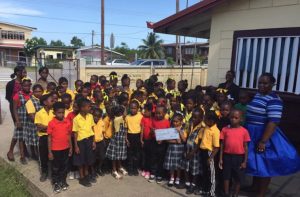 Dr. Cummings noted he is pleased to make available the resources necessary to assist the club to provide students with the skills they need to thrive in their future careers, from technical skills to critical thinking, problem solving, creativity, communication and collaboration. He explained that a fund raiser was held earlier in the year in New York to solicit the funds for the project. "One of the objectives over the years was the need to give back to the school in a tangible way; so, myself and Ms. Linda Bhola are classmates, so we came up with the idea, last year, to initiate the computer lab which goes in sync with the Ministry of Education  STEM initiative. The aim is to aid the children within the community to become computer literate and expand their knowledge so they can be competent and fit to face the rapid changes in the world…"
Headteacher, Ms.Wanza Richards said the school is extremely grateful for the donation which will go a long way in assisting students develop their skills in information Technology.
She also
thanked the donors who understand the importance of STEM in the lives of present day students.
The Eversham Primary STEM Club is the brainchild of Ms. Linda Johnson-Bhola, who is a lecturer at the University of Guyana and a former resident of the community. The lab received initial funding from the Ministry of Education to establish a STEM Laboratory.