SIXTEEN-YEAR-OLD Melissa Cummings now has a new electronic tablet to complete her Caribbean Secondary Education Certificate (CSEC) School-Based Assessments (SBAs) thanks to the assistance of Minister of Youth Affairs, Hon. Simona Broomes.
Cummings is one of the dozens of students attending a CSEC Camp, which is being hosted by the minister at her residence.
There, it was revealed that most of the students hail from marginalised communities, including Plaisance, Lodge and East Ruimveldt.
According to the Department of Public Information [DPI], Cummings said that the electronic device will aid significantly in the timely completion of her SBAs as well as help with research, and Information and Communications Technology (ICT)-enabled studying. She expressed the belief that the device is a 'God-sent'.
"It's going to help me a great lot because [it's going to help me to learn about technology]. It will… help me to complete my SBAs on time," she explained.
"Coming here, I have experienced that there is hope, and joy and fun and you could learn through experience. It's been great working with Minister Broomes' team."
At the camp, student volunteers, as well as trained graduate teachers, are assisting the students who will be sitting CSEC in May/June 2020, with SBAs and other related subject materials.
Teachers are also on board to ensure that the students have the best possible chance of success.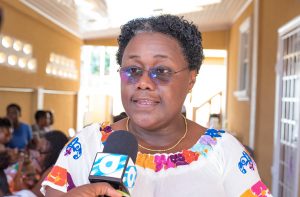 Another promising student, Kurt Edwards, age 17, has emerged from a trying background to rise above his struggles. Edwards was in and out of school because of financial constraints. He was forced to work to support his family.
He said that with the tremendous support received from the team, he has been able to start his SBAs and get assistance in various subject areas that once posed a challenge for him.
"It was kind of hard. [Minister Broomes] came to a meeting at the school and said she would assist me and since from that day, [she] gave me some assistance and motivated me to stay in school and finish my CXC to better my life," Edwards recalled.
The DPI also spoke with Minister Broomes, who expressed her heartfelt commitment to ensuring that young people have access to the resources they desperately need to succeed.
"This is all about supporting our young people, not only identifying the hurdles but [helping them get over the first hurdle]. I think once we start to give them that type of support, they will get more stamina; they will get more motivated… it will bring a bigger outcome and have a better impact in society," Minister Broomes remarked.
This is the second camp of its kind. The programme enlists support from educators and private citizens who all share a vision for Guyanese youth. It was birthed to assist children who experience unforeseen difficulties in completing their SBAs.
Astute educator, Orin Morgan, popularly known as 'Sir Morgan', explained his drive to help the students in every way possible. "I think we as educators cannot sit by idly and watch [our youth] knowing that they need the help and we can give them this help. Sir Morgan will be providing scholarships for additional classes to several students in the programme.
Underscoring the importance of support for children's success was the Chief Education Officer (CEO) of the Ministry of Education, Dr. Marcel Hutson. He charged the students to do their best in their SBAs as this is directly linked to their matriculation and education success.