Rosignol businesswoman committed to helping community
SOME of us give of what we have while others say they will give back when they have enough, but for candy shop owner Marva Alicia Lancaster-Glasgow, giving is a blessing and not an option, but a priority in her life.
With that simple mantra, she has become cognisant of the needs of children and the elderly and would contribute by preparing hot meals, goodies bags and whatever else is required to make care packages for people in the community.
The Jarvis Street, Rosignol, West Coast Berbice resident told the Pepperpot Magazine that apart from being a businesswoman, she is also an accountant and as her late father did, she is also contributing to society.
Lancaster-Glasgow stated that her father, who recently passed away, had been benevolent for more than 40 years.
"We are created for a purpose and we all must fulfil our roles and be able to touch the people around us by giving back of what we have, because if we wait to have enough, it might never happen. Today is the day to give back to make a difference in the lives of others," Lancaster-Glasgow said.
Giving back has been instilled in Lancaster-Glasgow from a tender age and after completing high school, she saw the need to empower the less fortunate and began offering free extra lessons to learners.
She recently started another project to give $7,000 vouchers to two teenagers every month for the purchase of basic hygiene products for one year.
Lancaster-Glasgow explained that there is a great need for young girls to be equipped with basic hygiene products such as deodorants, sanitary pads, and skin lotions, so she wanted to contribute to their upkeep.
She related that poverty causes many disadvantages among our youths and the need for certain things creates an opening for teens to be lured into early pregnancy.
Lancaster-Glasgow stated that from time to time, she would make care baskets for the elderly in the village and there is a group of children she takes care of by providing hot meals and would take them out for a treat to a fast-food restaurant.
She would also go around the village and assist street dwellers with a meal. This year she plans to extend that project to New Amsterdam and is asking for persons to come on board by providing food, clothing and other basic things to distribute to the needy.
Lancaster-Glasgow told the Pepperpot Magazine that many people do not have self-control and are overwhelmed by alcohol and drugs.
"At any given time, they will show up and I will give a meal, I never see giving as a burden instead, for me it is a blessing," she said.
The mother of two noted that she was born and raised in Jarvis Street, Rosignol and she is familiar with the people and as a candy shop owner, she would always try to lend a helping hand because she recognises the genuine need.
Lancaster-Glasgow has a shop that sells a wide variety of imported candies, beverages and a small amount of groceries.
Her business is known as the "Lancaster Shop" in Rosignol and it is an online candy import venture with novelty and unusual goodies to excite both adults and children, making buying such candies affordable.
Lancaster-Glasgow offers a variety and also themed animated goodies for birthdays in the form of lollipops, and chocolates and it is indeed a business with a difference.
She pointed out that all candies are imported from different countries and the candy business started from one barrel between herself and a school friend who resides in Canada.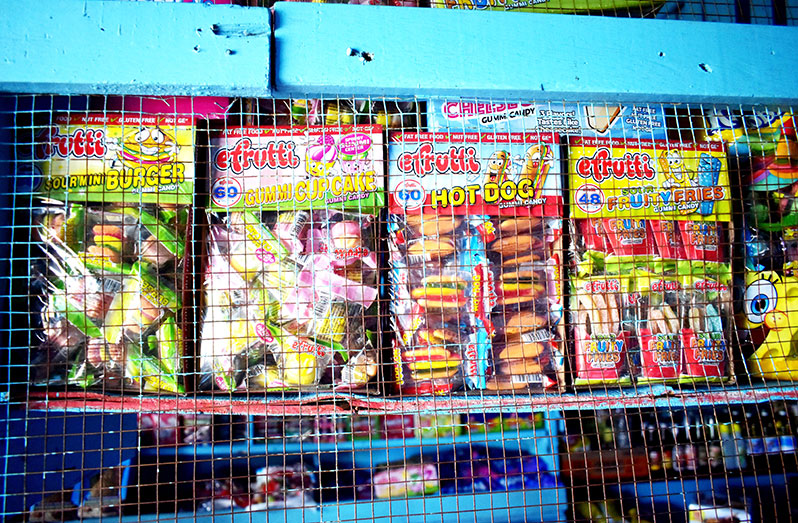 He began sourcing candies and sending them back to Guyana for her to market.
The candy shop is two years old and a wide cross-section of Guyanese supports the business by placing orders of large quantities as well as, sample packs of different candies.
Lancaster-Glasgow reported that in August, she hosted a food drive and reached out to people who genuinely need a meal and it is a good feeling to give.
"People don't forget kindness and no matter in what form it is given, it always comes back to you 10-fold and I will continue to give no matter what," she said.
This Old year's Night she will take to the streets to distribute a hot meal to people in the streets and would like to partner with others to ensure that they reach the people they need to.
Lancaster-Glasgow stated that the people's appreciation is tremendous and she is happy to be making a difference because she doesn't accept money, but if people can donate clothes, goodies and food, that would help.