Karrau's creative craftmakers
WHEN getting a job was nowhere on the horizon, Selena Lewis and her husband, Dwayne decided to utilise their skills and began making craft to bring in an income to the home.
This talented couple has five children, which was a major encouragement for them to become self-sufficient through their creativity in craft.
The 40-year-old told the Pepperpot Magazine that she attended a knitting class in the village and after that she was self-taught via YouTube, and that's when her small business kicked off right from her home.
Lewis stated that she began knitting baby clothes like cartoon-themed hats, bags, outfits and other pieces of clothing. Her husband makes earrings, bands, headdresses and necklaces from feathers, beads, bamboo and other local materials.
She explained that macaw feathers in the village became scarce. As such, they had to source feathers from Rupununi to make crafts for the upcoming heritage celebrations in the village and fulfil orders made for specific pieces.
Lewis noted that she doesn't like to disappoint customers, so depending on the orders, she would work long hours to finish whatever is required.
She pointed out that after the children are off to school she would do her knitting and at nights it is not always possible to do any craft because she is committed to her duties as a mother.
Both husband and wife are enrolled as apprentices for the welding course held in Bartica with the Board of Industrial Training (BIT), which takes place at 15:30 hours to 17:30 hours on weekdays.
Lewis and her husband also plan to open their own small welding workshop to earn following the completion of the course.
"With five children, we have to make it work in terms of providing adequately for them and we are willing to do more than one job to earn," Lewis said.
NELSON THOMAS, THE CRAFT-MAKER
Nelson Thomas is also a resident of Karrau Village and he weaves mucuru to make matapee, sifters and warashee, an intricate technique used by Amerindians.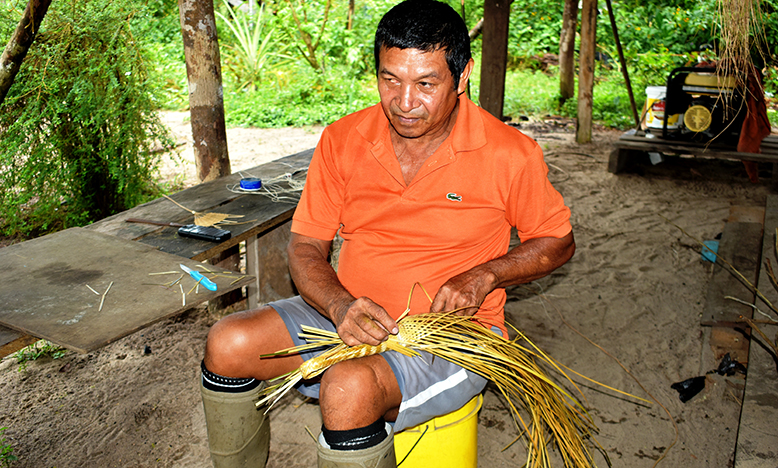 The 58-year-old told the Pepperpot Magazine that he is working on an order for the heritage day in their village. A customer requested the warashee, the matapee and the sifter.
Nelson is also a ground provision farmer and his farmlands are located a mile away from his home, and he would walk there daily to tend to his crops.
His produce is sold right in the village, the locals support his small business and he is very pleased about that.
The father of five told the Pepperpot Magazine that he is originally from the Deep South, Aishalton, and he learned the traditional craft from his father who relocated to Karrau for a better life.
It was 22 years ago, his parents left Aishalton and he was with them and their lives was certainly transformed. Today, Nelson grows his own food and sells off the excess.
Before making craft that day, he had gone for firewood for his spouse, Jessica Thomas, who makes cassava bread as a small business and would retail it right in the village.
She would make about 40 cassava bread by baking it on a pan to sell to earn.
THE KARRAU PRIMARY/NURSERY SCHOOL
Acting head teacher of Karrau Creek Nursery/Primary School, Melrose Allicock reported that she is pleased they finally have a fence around the building and the building received a much-needed facelift.
She stated that a fresh coat of paint was necessary to brighten the edifice, which was faded and the surroundings were cleaned for the re-opening of school for the new term.
Allicock disclosed that they have 83 learners on roll and it does not include new enrolment of children and pupils.
She is originally from Port Kaituma but relocated to Karrau nine years ago after marriage and is the mother of three.
Allicock is the spouse of the Toshao of the village Shane Cornelius.
The acting head teacher stated that at the school, they have a meal programme where all learners benefit from lunch.
Allicock reported that she began teaching in 2014, and since they have lost some teachers, they are in need of a teacher.
As for teaching materials and textbooks, they have adequate and being a multi-grade school one teacher would take on two classes.
One of the most immediate needs of the school is electricity and internet-ready computers.
"I would say we had 70 per cent turnout which is good for Grade One to Grade Six and for Year One and Year Two for the nursery section housed in the lower flat of the building," she said.
THE KARRAU HEALTH OUTPOST
The Karrau Health Post had an old building which was renovated and a waiting area with a shed and seating accommodation added.
The small building has three rooms for examination, doctor's office and the storage of drugs plus washroom facilities and a triage area.
A doctor would visit every two months but Community Health Worker Annette Lorrimer has been there for the past 32 years and will soon retire.
She is assisted by another Community Health Worker, Omelia Sugrim and they provide primary healthcare, home visits and maternal and child health care.
Lorrimer will retire in November this year and she will get to do the things she couldn't before and think about what to do during her golden age.
"It has its ups and down but all in all it was a good run. I enjoyed this type of work which chose me and I get to like it a lot," she said.
Meanwhile, Community Health Worker Omelia Sugrim told the Pepperpot Magazine that she has been at the Karrau Health Outpost for 10 years and it was a dream come true because she always wanted to be in the nursing profession.
"I like it here, as a local and as a healthcare professional, because I serve the people and it certainly feels good to provide a reliable service via the health outpost," she said.