Leaving his home village of Suddie, Essequibo Coast, Region Two and relocating to Karrau Village, Lower Mazaruni River was the best thing that has happened to Ian Moses, who enjoys a quiet life being self-employed and a member of the Village Council.
The father of three told the Pepperpot Magazine that he has been residing in Karrau for the past 17 years, and it is a place he has grown to love.
Moses stated that the people are very good and it is a village where you feel very safe and can sleep with unlocked doors and windows without having to worry about burglars.
In other words, there are no thieves in Karrau Village and it is a place where nothing out of the ordinary happens because the people go about their daily activities in a good way.
Even though a lot of people pass through the village via the toll gate to get to Buck Hall, North West District and other places in the interior, they do not have problems there.
Moses is a logger and he has a transportation service that goes to the hinterland only and would often volunteer at the Village Council.
"Living here is care-free you can breathe fresh air, clean environment, catch fresh fish and grow your own food and be really satisfied here in Karrau," he said.
At the Village Council, he has the responsibility for the natural resource of logging, and it is a job he takes seriously.
Moses stated that he is pleased to be involved in making a difference in the lives of the people of Karrau Village.
He related that the village needs a school boat to transport the children and electricity, which will significantly boost the lives of the locals.
TRAVIS SHAMEER DURGA
The team also met Travis Sameer Durga, a 27-year-old young man who served at the Village council for some time before he resigned. Durga told the Pepperpot Magazine that he is going abroad to further his studies and will choose a field soon.
Moving from Karrau will not be easy for Durga, who likes the quiet life in that community where everyone is familiar with each other, a close-knit setting.
He was a teacher at Karrau primary School for four years before he resigned and it was bittersweet since he found being an educator to be fulfilling.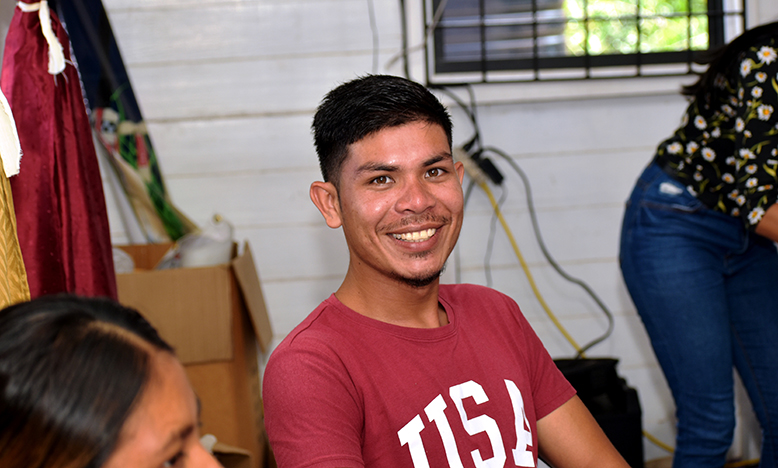 Durga explained that that job grew on him but it became a bit too overwhelming for him since it was just the head teacher and himself doing everything at the school, including administrative work and managing 60 students in total.
He also worked at the Village Council office for three years as the office clerk before he was elected as the treasurer and served for just over one year.
"I think I was chosen by the people at the last elections of the Village Council because I am a people person and somehow people trust me with money and I enjoyed that job a lot so leaving is very difficult for me," he said.
Recently he was selected to be the treasurer of the regional Amerindian pageant planning committee and it was good experience.
His advice to young people is not to hold back and take up leadership positions which can broaden their scope.
Durga added that they will certainly gain experience which will be of benefit to them in terms of choosing a suitable career.
He is originally from Bartica but spent most of his life in Karrau Village and he is leaving the village and the country later this month.
"As time draws closer, I am having a lot of mixed feelings, but it is for my own good to relocate overseas because I want to study, but I will use the time left here to reflect on life," he said.
Durga's mother is the only seamstress in the village and he lives about a 10-minute walk away from the Village Council's office.
He related that he will certainly miss the people most because they are the friendliest and they always greet you with smiles and the way they co-exist in relative peace and quiet.