GUYANA-BORN legal professional is also a 'Second Dan Black Belt'
By Frederick Halley
ALICIA Nathalie Sims recently completed a degree programme in Criminology and Sociolegal Studies at the University of Toronto and is anxiously looking forward to her graduation ceremony in June.
The 23-year-old Guyana-born lives a hectic and productive life and hardly finds time for social activities. Instead, she is completely engulfed seven days a week, and it's truly amazing how she copes.
In an interview with Sunday Pepperpot at the Iron Fist Karate Dojo, Scarborough, Ontario, where she and her father Michael manage and teach karate, the Second Dan Black Belt, who works part-time at a legal firm while contemplating which area in law she will eventually pursue, teaches karate from Monday to Saturday.
Leaning toward sports or business law, Alicia said she took the year off after graduation was postponed due to the COVID-19 pandemic to save some money and compete.
Still very much competing, she does her personal training mostly on Sundays, and during the week, she and her teammates go through their paces with their Sensei.
A Bronze medal winner in the -61 kg Women's Kumite category at the 2019 Canadian National Championships, held in Edmonton, Alicia has her sights set on representing Guyana at international championships but lamented the fact that the country of her birth isn't a member of the World Karate Federation (WKF) which makes it difficult for the country to compete at the Pan American Championships, Worlds and other prestigious championships.
In order to compete at the National Championships, contestants are required to be in the top two at the Provincial Championships. Alicia's performance at the Provincial Championships during 2019 earned her a spot on the Ontario team, while she was chosen to represent Canada at an international tournament the same year following her Bronze medal feat at Nationals.
Facing competitors from USA, China, Turkey, Japan among other countries, Alicia failed to medal. She however pointed out that the experience was invaluable. "I encountered lots of champions who were vying for supremacy in my category, plus they were also vying for places in their Olympic squads as the sport was being introduced for the first time at the 2021 Tokyo Olympic Games."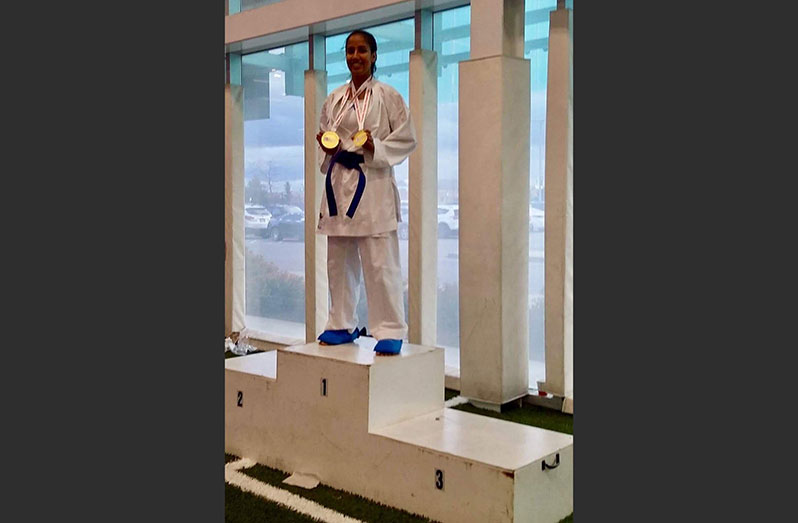 Touching on the Provincial Games, Alicia said those are usually held at five locations around Ontario – Brampton, North York, Markham, Orangeville and —, so there are at least five tournaments in a year. Contestants are then graded on their overall performances over that one-year period.
"I started out at Team UMAC Kempo Dojo when I first came to Canada and had the privilege of competing at several competitions around the province. As I grew older, I began winning more and more often. However, one of my visiting Senseis, after watching me compete, referred me to my current Sensei, who is also a National coach of Karate Canada."
According to Alicia, "he explained the way they fight in my current style of karate is different to the way I used to fight. Before switching, I fought with a mix of techniques, including some I don't use now (hooks, uppercuts, etc), heavier contact and in a shorter stance, similar to boxing. He told me to go watch the Pan Am Games taking place in Toronto in 2015 to see what he meant. So, I got tickets to watch some kumite matches at the Hershey Centre in Mississauga. After watching a few of the matches, I was interested in trying this sport style of karate.
"I went over to my current Sensei and I began training. I had to unlearn lots of things I did in my previous style as well as learn new skills for my current style. For example, I had to use a bigger stance, my arms were placed differently in front of me, I was constantly jumping and moving around and the techniques I used also differed. I could only use straight punches, and the kicks changed. Not to mention the speed was on a completely different level. I had to teach my body to forget a majority of what I had practised for years and retain only the transferable skills."
Alicia and her father opened the Iron Fist Karate Dojo five years ago, where they teach Shotokan and Sports karate and also train their proteges to participate in Provincial championships with the possibility of advancing to the national level. They also grade students.
Currently, the dojo has an intake of 50 students, starting from the beginners level, but this figure was reduced drastically during the high point of the COVID-19 pandemic when it dropped to as low as four, although done via Zoom.
"Prior to COVID, I had just under 20, and it dropped to four during the pandemic and increased to 50 and is still growing after the restrictions were eased.
"We also teach them to compete. Ten were involved at the Provincial qualifications, with nine of them gaining either first or second places. You have to be 11 to compete at the Provincial level and 13 at the Nationals."
Commenting on her teaching skills, Alicia divulged that she genuinely enjoys her job. "It makes me become a better competitor because I can't skip training and can't be lazy with my training or techniques because I am an example to those young athletes.
"Part of the fun of the sport is sharing it with them. For instance, I was their coach at the last Provincial championships and also competed."
Alicia started karate classes at the YMCA, Thomas Lands, Guyana, at the tender age of four but migrated shortly after with her parents to Canada. She explained that her first stint in karate involved the Shotokan style, but after having problems finding a Shotokan school, she started Kempo, a form derived from Shotokan mixed with kung-fu. She was already a Brown Belt in Shotokan when she left Guyana.
Not to be outdone, Alicia's dad Michael who also taught Alicia, is himself a Fourth Dan Black Belt.
An amateur boxer and karateka during his "younger days" in Guyana, Michael remembered being a member of the Save The Children Gym, which produced Guyana's lone Olympian in Michael Parris, pointing out that they were members around the same time. Michael fought in the lightweight and featherweight categories.
According to Michael, who turned to mainly karate when he migrated to Canada, it was difficult to remain in boxing since he was advised that he needed to continue for at least two more years in the amateur ranks before attaining professional status.
"This didn't work out well, since I had a family to maintain," Michael pointed out.
After returning to Guyana for a few years, where he was also involved in the promotion of horse racing, Michael said he trained under Sensei Lavern, who died a few years ago; This forced him to revert to the Shotokan style after doing Kempo, which is a branch of Shotokan.