LIFE for 61-year-old Andrew Gyfhius could only get better, but he is not complaining, since everything is in his favour.
He is a resident of Salem Village, East Bank Essequibo and the father of three grown children, 12 grandchildren and four great-grandchildren.
Gyfhius is one of three Naamryck/Salem Sluice Operators, and he has had that job for the past 16 years, a job he takes seriously and does it with pride.
He describes his job as interesting and a learning experience, because he has to know about the tides and the 'know how' to open and close the door of the koker to prevent flooding when the tide is high, or when it is raining heavily.
The elder stated that he also is aware of the internal drainage system which carries water to the farmers for their crops and it is a serious job, since a lot is at stake if the koker door is left unattended.
He also explained that the waterways should have enough water at all times for the farmers to transport produce from their farms, to the koker.
"It is a technical job and it requires a bit of knowledge about everything, because if that koker door is left unattended, things can escalate quickly and it can result in millions of dollars in losses to crops, livestock etc.," he said.
Gyfhius told the Pepperpot Magazine that the koker door has timings, according to which it is closed and opened.
In addition, the Sluice Operator has to 'blow' water during the rainy season to prevent a flash flood in tune with the falling tide.
This resident has lived all his life in Salem Village, East Bank Essequibo and it is his 'sweet home' as he calls it where life is alright.
Being employed at his age is a gift and he has a very comfortable life, since he resides alone and all his children are doing well for themselves.
Gyfhius disclosed that he lived with his grandparents; as the eldest grandson, he was a favourite and they took him in at a tender age.
He added that as they became elderly, the house was handed down to him and over the years he has done his best to maintain the property.
Gyfhius stated that his parents, his mother is from Salem Village and his father is from Parika, but he never moved away because he is comfortable.
"Being a Sluice Operator is a 24-hour job and things can happen quickly, so I have to be vigilant to man the koker and do checks regularly," he said.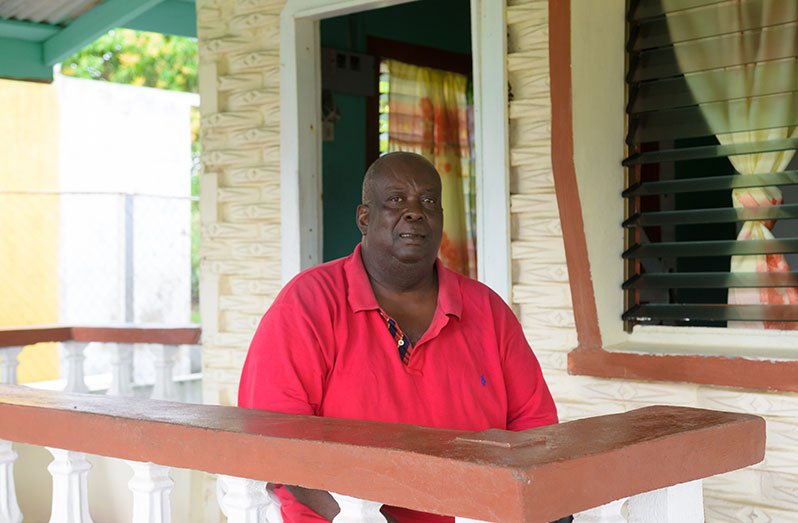 He resides within walking distance of the koker and is attached to the Region Three Regional Democratic Council (RDC) as an employee.
Gyfhius told the Pepperpot Magazine that Salem Village is a tranquil countryside place where there is unity among the people, except for one.
He is also a part-time farmer and when he has some spare time he would spend it on his five-acre farmland aback Salem/Naamryck villages.
He has crops of plantains and pineapples.
Gyfhius pointed out that being a farmer means one has to be a patient person because plantains take nine months to grow fully, and pineapples take 15 months for a crop.
Gyfhius added that he would do all his household chores and also prepare his own meals every day and is accustomed to his way of life.
"I would make breakfast and do one cook for lunch and dinner," he said.
The former newspaper vendor
Shaveza Smith is a resident of Salem Village, East Bank Essequibo and was a newspaper vendor for two years.
She used to sell the daily newspapers at the Parika Junction, but after she tested positive for COVID-19 last year she had to quit that job.
The 29-year-old told the Pepperpot Magazine that the village consists mostly of the Gobins,the Grimes, and the Persauds, three families.
Her husband, Shon Smith, a farmer and taxi driver was also a newspaper vendor for nine years but he also quit.
Today, the newspaper vending was handed down to an aunt, Debbie Johnson, who sells the newspapers at the Parika Market Junction.
Smith said life in Salem is good and the mother of three is a stay-at-home mom, who attends to the household chores and takes care of three daughters.