A VOUCHER has surfaced that suggests that Mayor of Georgetown, Pandit Ubraj Narine requested funds from the City's coffers to attend a protest scheduled to occur in Brooklyn, New York, on the invitation of well-known 'rabble-rouser' on Facebook, Rickford Burke.
The protest is organised by an unknown organisation that calls itself the Guyanese Organisations Against Racism (GOAR) and includes what it called an 'anti-racism & injustice march and rally' on August 15, 2021, as well as a diaspora conference on August 17, 2021, in Brooklyn, the invitation letter to Narine, signed by Burke and Ervin Washington disclosed.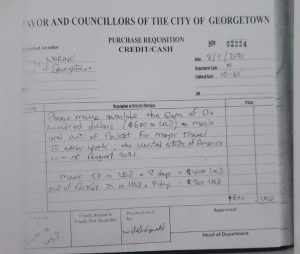 The voucher seen by this newspaper shows a Mayor and Councillors of the City of Georgetown 'Purchase Requisition' that suggests that Narine requested the sum of US$600, or GY$132,000, for "meals and out of pocket" for his travels to New York for a period of eight days.
The Mayor, in response, claimed that when he learnt of the requisition, which was prepared by the international relations officer attached to the Georgetown Mayor and City Council, who is responsible for organising the Mayor's international travels, he informed the officer to withdraw same.