THE US Military Information Support Team, the Region Three police division, and the Region Three Private Sector Inc (R3PSInc), on Tuesday concluded a four-day course, during which two dozen police ranks benefited from training in medical life- saving techniques, and effective communication.
Commander of Region Three (Essequibo Islands-West Demerara), Senior Superintendent Errol Watts thanked the facilitators from the US Embassy for their timely support in the four critical areas of knowledge sharing, which will ensure the provision of better services to the public in the region.
He also posited that this training should be the starting point for greater collaboration in the future between the embassy and the regional division, as his aim is to use the provision of better services to bridge the gap between the police and the public.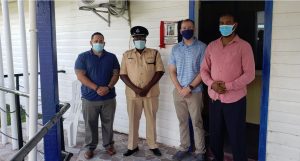 Head of R3PSInc, Halim Khan explained that over the past month, the Military Information Support Team from the US Embassy collaborated with the Region Three police in the areas of social media optimisation, police ethics, medical life- saving techniques and effective communication.
This joint collaboration allowed police officers to increase their knowledge base through hands-on instruction and seminars, while building a more effective community based policing strategy, Khan said. Noting that police strategies are continuously evolving, and are diverse, he said common threads are readily discernible, both locally and internationally.
"It is clear that the design and implementation of information systems should not be left to technologists; they are matters for strategists and managers. If these matters are neglected, they can undermine the best intentions for strategic reform. In many police departments, these matters now are urgent. In order for the full potential of the emerging strategies of policing to be realised, senior officers will have to ensure that their information support fits their policing strategy," Khan noted.