– A life of tranquillity for local family
IT is often said that home is where the heart is and this can be said for Daphne Spellingburg, a mild-mannered woman who is contented living by the Kara Kara Creek, which is in South Amelia's Ward.
The mother of 10 made her way across the creek in a paddleboat with her granddaughter to meet the team that rainy day, despite flood conditions, caused by heavy rainfall and the overtopping of the Kara Kara Creek.
She told the Pepperpot Magazine that she is very comfortable with her little house across the creek, which is connected to Speightland Village via a wooden bridge, but due to the flooded conditions she had to use the paddle and boat to get across the creek.
Spellingburg stated that during the dry season the living conditions across the creek are more acceptable, but admitted that her son would often encourage her to move out and go live with him in Amelia's Ward, but she refuses to leave.
The 53-year-old said she is concerned about the 200 meat birds she has in a pen aback her yard and if the water rises, they will die.
Spellingburg resides with five other persons in her cottage and they have a dog, a parrot, some birds and a cat as pets.
Many years ago, she used to reside with her family at Creek Mouth, Kara Kara Creek, but relocated to her current location and will remain there because she enjoys the tranquillity of a peaceful life.
Where she resides there are just five other houses and they live in harmony and there are no issues.
Spellingburg told the Pepperpot Magazine that this time the water is extra high and there is a need for the creek to be dredged. The last time that happened was in 1995, when the mud was used to fill her yard.
She would use the creek water for washing and other household chores and a few others across the creek would wash their wares too with the creek water.
Spellingburg stated that she would fish in the creek when the weather is good, and would also tie a hammock under the big shady trees to relax.
She reported that she has a small solar-powered system that she uses for lights at night, but a few residents have electricity.
"I would often buy a month's supply of goods, so I don't have to go shopping often and use the nearby shop if anything is needed," she said.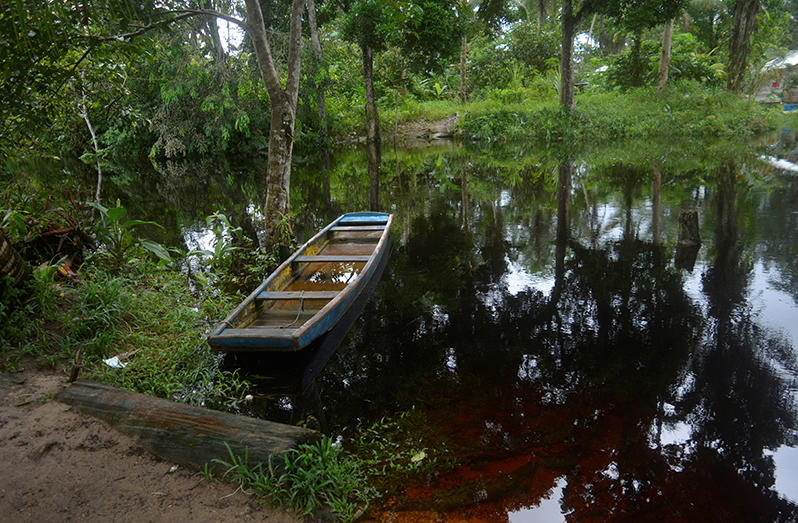 She disclosed that her parents came from a small village in the Demerara River and had settled in Creek Mouth, but they have since passed away, but taught her many valuable lessons in life, including how to bake traditional foods and cooking.
Spellingburg recalled that she and her mother would bake in a box oven and it would be bread and pastries for the home.
She had 10 siblings, but six have passed away, leaving only her and three others.
Spellingburg would also take care of her grandchildren, including a twin, one of whom was by her side that day.
Of her 10 children, Spellingburg has a 16-year-old who is currently writing the Caribbean Secondary Education Certificate (CSEC) examinations, while her youngest is 13 years old.
She is at peace where she resides and despite the challenges of the location, she finds it quiet and away from others, she has space and is happy.
Even though they don't have the luxuries of many things she doesn't mind and they have a contented life.
"Life is satisfactory and we make do with what we have and our needs are met because we work and can provide for ourselves, so we are not missing out on anything except vanity," she said.