AT La Union Old Road, the road which leads to Crane Village, West Coast Demerara, there is an intricately designed mandir which sits on a large plot of land which has several buildings.
This mandir is International Society for Krisna Consciousness (ISKCON) whose founder is Achari His Divine Grace AC. Bhaktivedanta Swami Prabhupada and the name of the mandir is Sri Sri Gaura Nitai Ashirvad Mandir.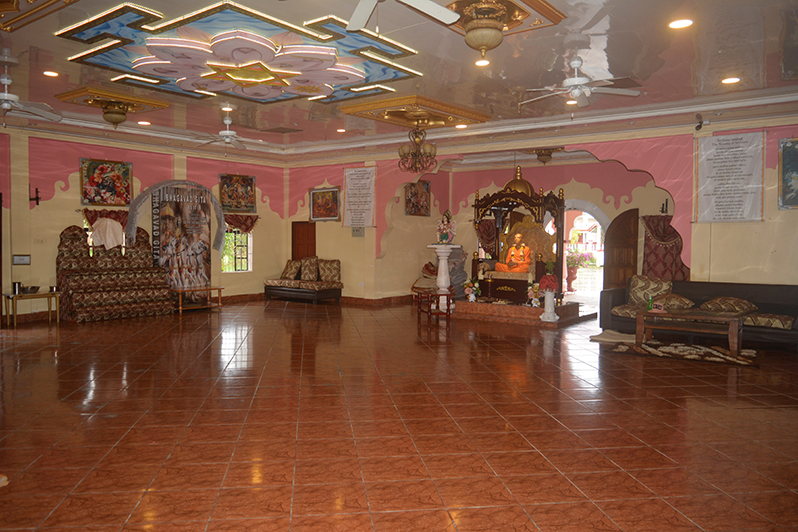 The priest is Subala Arishnad Das, a pujari, who has devoted his life to serving the mandir and the people and does voluntary work.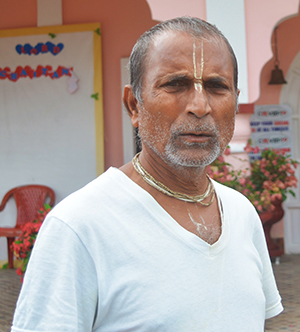 He would visit the mandir at 03:00hrs daily, every day with no day-offs to prepare the altar for 04:30hrs service and he resides at Cornelia Ida, also on the West Coast of Demerara.
There is an in-house caretaker on the premises, but there are daily chores to be completed, such as the preparation of all-vegetarian meals, for services from 04:30hrs to up until 20:00hrs every day.
The pujari explained that due to the coronavirus all large gatherings have been suspended and they only allow a small number of members, at any given time.
They have in regular attendance more than 100 members, but all the members do not visit at one time and they are practising social distancing, hand-washing and the wearing of face masks.
The religious leader reported that the temple is opened daily and anyone can come, because they have their feeding programme called 'Food for Life' in which they would prepare a large amount of "seven-curry" with rice and place in food boxes and distribute to the needy.
Subala Arishnad Das told the Pepperpot Magazine that recently they had 500 boxes of "seven-curry" at the Parika Market and they shared that among the people.
He stated that although they have a monthly feeding programme, they have been unable to do so because of the pandemic.
The pujari pointed out that he, along with members, would go out and preach and sell their books at a reduced cost.
"Come, visit, see our way of life is very humble and simple and you have got to be a full-fledged vegetarian, and today marks 40 years and one day I put down the chicken and started my non-meat journey," he said.
Before a friend took him to the temple, he had realised that he wanted to live an alcohol and meat-free life and decided to devote his life to the teachings of ISKCON.
Subala Arishnad Das, reported that his life changed at age 28 and he became a vegetarian in 1980.
He added that the temple was opened in 2000 and they survive on donations, being a charitable organisation.
ISKCON believes in karma, whatever you sow, you will reap and to become spiritual-minded, they practise the maha-mantra chant and count the 108 beads of a chain they have in their possession 16 times a day.
Pastor Neil Osborne ministering to his home village of Bagotville
Pastor Neil Osborne is a pastor and resides in Crane Village, but has his own church in his home village of Bagotville, West Bank Demerara, and would go there for services.
He is attached to the Fountain of Life Ministries at Inner Bagotville, West Bank Demerara, and describes life in Crane Village as good, since life is actually what you make it.
He has been in Crane for 16 years and relocated when he was given a plot of land and constructed a house and began residing there.
The pastor's kitchen garden
"People are the same everywhere, so you just have to know how to live, but this place is generally peaceful until someone starts to misbehave or play loud music," he said.
The pastor told the Pepperpot Magazine that they would give back to society by preparing a large pot of food and go out to the city and distribute home-cooked meals to the homeless and needy on the streets.
Osborne stated that they had planned a feeding programme for senior citizens of Bagotville, but due to the pandemic, they had to stall for a bit, but it is still in the making.
"We will cook and put the food in boxes and distribute it without having a large gathering due to COVID-19," he said.
The pastor' wife has a small food business at Nismes, just outside of Gafoors and she is also a part-time seamstress and he does the gardening.
The father of four said he is always engaged in things of importance, so there is no time to idle and believes in growing his own food.