LOCAL make-up artist Susan Ibrahim has been recognised for a Caribbean Style and Culture (CSC) Awards and Fashion Showcase to receive the 2020 Award of Excellence Makeup and Aesthetics and couldn't be happier with the achievement.
Although she's been a make-up artist for just about seven years, Susan believes that it is her passion for the work that has landed her the award. As an awardee, Susan will be showcasing her work as part of the CSC's upcoming virtual showcase.
"I feel really good about this because anything that I really put my mind to and I decide to do…I always try to put my best foot forward and learn as much as possible about what I am doing," she expressed in an interview with the Buzz.
It came as a surprise to her when the organisation reached out to her and said they've been following her for some time now and love her work. Perhaps it's her versatility that they love so much, she opined.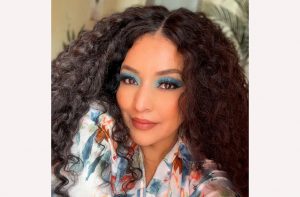 Explaining how it all began, Susan related that she was in the corporate world for as long as she could remember. Having had her second daughter, she realised that she had to spend quite some time at home. "I decided I would be a stay at home mom. So I learnt how to do my own make-up," she reflected.
While being in Trinidad for a bit, she reflected how the women there were all very well-groomed and their makeup was always on point. "I adopted that style when I came back to Guyana and I was always put together and my friends saw that and started asking me to do their make-up," she recalled.
It was one particular friend who told Susan that this is something she can possibly do as a side business. "I laughed but I later realised that it can indeed be a side business because I loved it so much and I loved making people over,"she said.
Susan decided to do theory studies with a Canadian make-up school and a practical course with a Caribbean make-up artist every year after. "I learnt blending colours and once I learnt that, everything came together," Susan said.
Now with her own business called 'Saks Makeup artistry' she mostly does house calls as most of her dates are booked because of advanced appointments.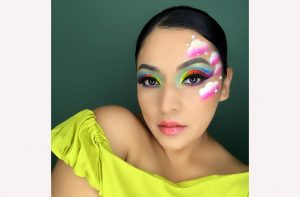 "I'm just grateful to be part of this platform and to be representing Guyana," she said, adding, "We're all talented in our own way. Keep focused on your talent and what you want to create and not what anybody else is doing. Once you keep working on it, it becomes a reality. People can see genuine passion and you should continue to fuel it," she expressed.
The Caribbean Style and Culture Awards is a showcase of fashion, music and art held annually in June to commemorate and celebrate National Caribbean American Heritage Month.
Founded in 2009, the Caribbean Style and Culture Runway Showcase is exciting, dynamic, constantly changing, and full of new styles and colour combinations to amaze the world.
It brings the newest collections from the hottest Caribbean fashion designers showcasing the very best from the Caribbean and South American Region.
Over the last 12 years, the event has honoured the work of several renowned designers, models and makeup artists from across the Caribbean. Past awardees from Guyana include Michelle Cole, Carol Frasier, Keisha Edwards, Sidney Francois, Andrew Harris, Olympia Small-Sonaram, Frank James, Roger Gary, Quinton Pearson, Nadia Winter-Thomas, Natasha Harper, Niketa Barker, Renee Chester, and many others.
This is the second year that the Caribbean Style and Culture Awards and Fashion Showcase will be held virtually, allowing artists to showcase their work to an audience of thousands of Caribbean people in the region and in the diaspora via social media.