ZAHEED Hamid, better known as "Syrup," is originally from Anna Catherina, also on the West Coast of Demerara, but relocated to Hague Village, where he has been residing for many years. He is a fishing boat owner and although he doesn't go out to the Atlantic Ocean to fish, he has some men from within the village, who work for him.
Hamid has been in the fishing industry for as long as he can remember and is advocating for a better market and prices for fish. He describes life in Hague as good, because of the quiet peacefulness and it is a safe place where there are no thieves among the people.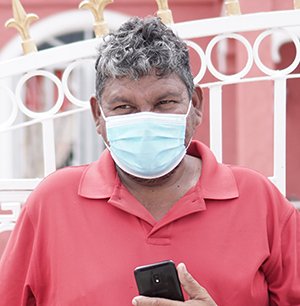 The businessman added that they have seen a few developments with the village and that is a plus, because the roads were in a bad condition and it was upgraded and a new concrete bridge at Duke Street was built to replace a rotting wooden bridge.
He also was pleased about the concrete ramp which was erected for the fisherfolk at the seawall and stated that some women of the village would clean fish for a living. Hamid noted that the way of life of the people of Hague is simple and they are hard workers.
Meanwhile another resident, Richard Baker, is also a businessman and has several fishing boats which employ more than a dozen men. He has lived all his life in Hague Village, all his 35 years of age to be exact and consider the people to be neighbourly and good.
Baker told the Pepperpot Magazine that the people of Hague own 14 fishing boats and presently things are not financially viable, because of the weather and prices for fish, so it is not a good fishing season. He disclosed that the fishing business is "luck and chance," but the people depend on him to earn and he does what he can to ensure everybody takes home something.
"To stock a fishing boat alone for a trip is half a million alone, plus you have to give workers an advance of $30,000 for them to leave with their families while they are at sea," he said. Baker reported that his last fishing trip was recent and he incurred a loss of three million dollars; yet he has to give life to a dying business because fishing is their "bread and butter".
The Pepperpot Magazine also met another fisherman, Fazil Madramoottoo, who has been in the fishing industry for the past 30 years. He pointed out that his father was a fisherman and like most men in his family, they are all fisherfolk.
The fisherman used to work in a body workshop for some time, but re-entered the fishing business because of financial constraints. Madramoottoo explained that he welcomes the concrete ramp at the seawall, but at least they should have been built halfway between the two streets in the village to provide an ease for all fishermen to use.
He reported that the current location of the concrete ramp is out of bounds for them, because they have to use large boulders to walk on to get to the fishing boats to load them when they have to go on a fishing trip. "Walking on slippery boulders with weight is no easy thing and we have to fetch heavy things like drums of fuel to load the boat when we have to go to sea, and we cannot access the ramp to get to the fishing boats and it's hard and takes a lot of work and time," he said.
Madramoottoo added that at times they have to wait in the tide to fish and load the boats and it is time-consuming and quite a bother for them. He stated that fishermen are people too, and they too need some form of assistance to keep the fishing industry alive.
This fisherman like many others is employed with Richard Baker and he depends heavily on fishing to earn.