Horse-drawn cart operator follows in father's footsteps
ZAMEER Abdool is a resident of La Grange, West Bank Demerara, whose small business of horse-drawn carts puts food on his table for a family of four, sends his children to school and pays his bills.
The 40-year-old reported that he comes from a family of men who practised the profession and it is the only job he knows. "This horse cart work isn't anything fancy or glamour with sparkles that glitter, but it is an honest job that feeds myself and family and that is all that matters; it is my hustle and earning and I am proud to be providing a service for people," he said.
Abdool, a plain-spoken, mild-mannered kind of a man, stated that he is not ashamed of his job because it is his income garner and he is self-employed and his own boss.
He has five horses and he would work with one every day because he is sensitive about the feelings for his animals and he treats them as his own. "Not because they are animals you treat them anyhow, they have feelings just like humans and I depend on the horses to earn and they depend on me to take care of them, so I see it as a partnership between us," he said.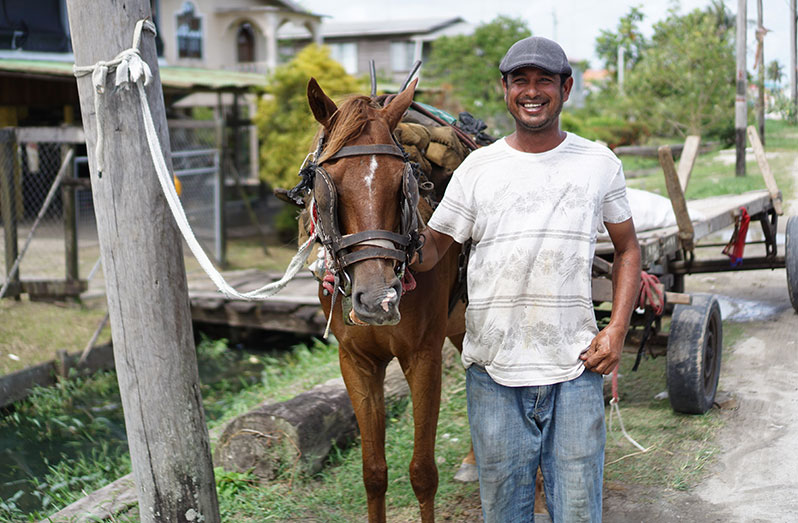 Abdool, who is a normal person trying to work and live peacefully, pointed out that he works outside of a sawmill/hardware store in the village at Independence Street and when people show up to buy building materials and wood, he would engage them and work out a reasonable fare for transporting their sales to the requested location.
He is fully aware that because of the pandemic, people are not 'holding' as before but are trying to stay afloat and he would 'flex' with them. The father of two related that he started working horse-drawn carts at the Plaisance Market, East Coast Demerara, since he used to reside in Better Hope, two villages away and he used to fetch loads with his horse and cart.
He started this type of work 13 years ago when he had a simple donkey cart and as he began to earn, he saved up enough to buy a horse and custom-made a cart and his business blossomed.
Today, he has five horses and that day he was with Easter, a female, whom he bought three weeks ago and she is six years old. Abdool disclosed that he purchased Easter for $140,000 and from the way he treated the horse, it was evident he adores her and they have an understanding.
He added that he would take care of his horses, doesn't work them too much and would use a different horse every day for work because like humans, they too, need rest. The self-employed man stated that he is licensed with the Guyana Revenue Authority to operate his horse-drawn cart and it is $5,000 per year and he has a legitimate small business.
He, however, applied for a plot of land, years ago and was allocated a house lot at La Grange and he relocated and knew he had to work. At the time the team caught up with Abdool he was sitting under a tree and was having his lunch, a quick snack he had brought from home before soliciting customers outside the sawmill.
Abdool added that his father was a horse man, who had a horse named Royal Champion and with that horse-drawn cart, it provided for himself and four siblings adequately.
He explained that the horse was his father's pet and with that horse, he worked to build a house and lived comfortably. Abdool disclosed that Royal Champion was indeed a champion of a horse, because he lived for 28 years and worked even and straight with his father to accomplish a lot.
He added that his relatives all have horses and operate their own horse-drawn carts at Better Hope South, East Coast Demerara and it is their way of life to earn. The Abdool family has been breeding horses for many generations and it has passed down from the older men in the family to the younger ones and that is how he learned all about horses and develop skills to become a horse-drawn cart operator.
He is one of a handful of horse-drawn cart operators vying for work at the location and they co-exist in peace and with understanding. "This is a nice job if you know what to do and how to do it, because you have to know how to talk to people and you must charge a fair price for transporting their load and that way everybody is happy, you have money in your pocket and the customer had their load delivered," he said.