Places and faces in Line Path Village
Former Mayor of Corriverton and City Inn Hotel owner, Hemchand Jaichan has a place for families and others visiting the Corriverton corridor. He calls it 'A home away from home', the City Inn Hotel which is located in Line Path, is the ideal place for a weekend of relaxation since it has all modern conveniences and it is a comfortable place with spacious rooms and two-bedroom apartments.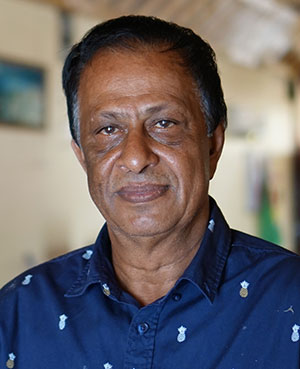 Jaichan was the Mayor for two years and is also a member of the Upper Corentyne Chamber of Commerce, who advocates for the organisation and is part of the hospitality association of Guyana.  He told the Pepperpot Magazine that these days his life revolves around the private sector and advocating for better promotion of businesses and their growth.
Jaichan added that Corriverton starts from #76 Arch to Black Water and a lot of people there are without jobs, even the young people since many depended on the sugar industry. He reported that job creation is necessary for the development of any community because money isn't circulating among the ordinary people and a lot of people are sitting, waiting for things to happen, and to be employed.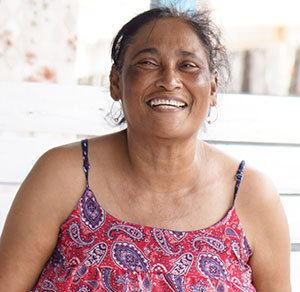 "People are willing to work because they want to earn and there is nothing for them to do and it is depressing since many young professionals are job hunting along this corridor," he said. However, in terms of infrastructural development within the village of Line Path, he disclosed that for the past six years nothing has taken place to improve the community and things are basically at a standstill.
Jaichan stated that Corriverton needs a recreational park with sports facilities and a swimming pool and other things where people can go and unwind and the children can have a safe place to play. He related that other parts of the country have things like the pools, stadium, malls, synthetic track and seawalls and other recreational facilities and parks but there is no such thing in that area for regular people to utilise.
Jaichan pointed out that for a border town there are two eyesores in the community, the Post Office and the Immigration Office at Springlands. He explained that the Upper Corentyne Chamber of Commerce with its 85 members would accommodate persons with labour skills but that is not enough and technical institute students would also be given jobs by these business people.
The hotel owner revealed that last year the Chamber wasn't so active due to the pandemic but this year they will have regular meetings. Jaichan stated that massive investments are needed in Corriverton to enhance the lives of people and he welcomes more private/public sector partnerships.
"The hospitality industry, this side is suffering, at times, there is no occupancy of my hotel and it is sad," he said. The City Inn Hotel is a two-storey concrete building with 11 rooms. On the lower flat, there are two-bedroom apartments with a kitchen, living room and all amenities.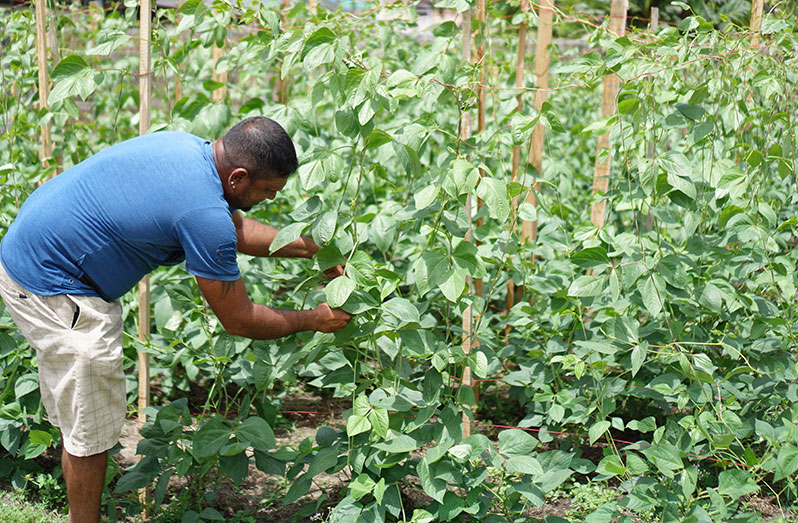 On the upper flat, there are rooms with double and single beds and it is a clean, spacious place and it also has a conference hall which can accommodate 120 persons for functions and meetings.
The housewife
Meanwhile, in the same section of Line Path, the Pepperpot Magazine met another villager, Sabita Khemraj, a housewife. The 53-year-old was enjoying some home-cooked food and was about to start some household chores.
The mother of three stated that life in Line Path is simple and since her husband was diagnosed with heart ailments and he had to quit his job at the sugar estate. Khemraj said they depend on relatives to assist them and their children. She resides in one of the colonial-style houses, on which she did some renovations but the edifice is well-preserved. It is her parents' place and she wants to maintain the house in their honour and memory.
The resident reported that the village is quiet and she likes living there because it is the only place she knows and the people just do what they have to in peace. Khemraj's yard is spotlessly clean and she has a lovely flower garden.
The cash crop farmer
The team also met Vinod Mohanlall and his family. He is a farmer and a part-time labourer and lives at Section E Line Path Village. The 42-year-old is cultivating a plot of land next door and he has some bora, ochro, corilla and squash he would sell at Skeldon Market.
Whenever he gets a day-job to work in the back dam on farms he would make use of the opportunity since he has three school-age children to take care of, he is renting and has two birds, a parrot and a dog, named Lexie. Mohanlall related that he would also catch fish when he has the time and do odd jobs in the community when farming is out of crops.