-discover nine pounds ganja, cannabis plant
POLICE, acting on intelligence, raided the Lot 249 Crane, West Coast Demerara house of a businessman where they found nine pounds of marijuana hidden in a barrel and a cannabis sativa plant he was growing in the back of the yard. Police Headquarters in a statement noted that 47-year-old Ryan Joseph and his wife, 36-year-old Chetranie Doodwah were both arrested and remain in custody pending further investigation. The Guyana Chronicle understands that 13 ranks swooped down on the house around 05:30hrs on January 3, 2021, and informed Joseph about the allegation made against him. The police said that Joseph agreed to a search of the house, during which nothing of evidential value was found in the upper flat.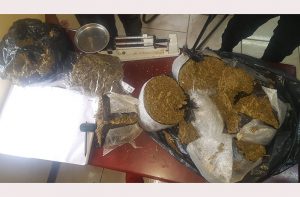 The ranks then carried out a search on the lower flat of the building where Joseph used his keys to open a blue plastic barrel. During a search of the barrel, the police discovered a black garbage bag containing three bulky transparent plastic parcels which had leaves, seeds and stems suspected to be cannabis.
According to the police, under caution, Joseph said: "Is me weed, don't involve me family."
A further search was then carried out at the back of his yard where the police found a white container with dirt, which had a suspected cannabis sativa plant that was about two and a half feet in height. The police said that Joseph again admitted ownership and asked for his family not to be implicated.
He and his wife were both arrested and escorted to the Parfaite Harmonie Police Station on the West Bank of Demerara where they remain in custody.