By Telesha Ramnarine
PADDLING along the Moruca River for school each day was a breeze for Francesca Vieira, even though it took her over an hour one way! Still, she'd say, "It was not far from home." As challenging as it might seem to make the journey each day, beginning around six in the morning, she was happy to do it.
Little did she know that as she paddled each day she was really leading herself towards a path that would result in a rather successful career in education; one that would allow her to help her fellow Indigenous people.
Having held several important posts in the education sector, Vieira retired as Secretary to the Teaching Service Commission (TSC). Today, with 49 years in education under her belt, her advice is simple: "Qualify yourselves and grab as many opportunities as you can."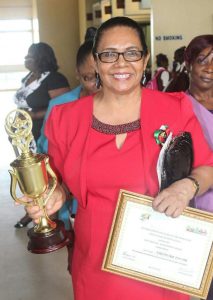 Many opportunities were not readily available to her as a young girl growing up. So she knows what she is talking about when she says that whatever opportunity comes up, take it and be determined to make something of it.
She was just 14 years old when her older sister married and moved away. At this point, her loving and hardworking parents Manuel and Matilda were working in the farms all week and would only be home on the weekends. This meant that apart from going to school, Vieira was now responsible for her younger siblings and she ensured that they also attended school and all of their other needs were met. In short, she was now in charge of the household during the week.
The family was poor. The children would receive a new pair of rubber slippers each September for the new school year, and one week later when they burst, it was nothing strange to have to go to school barefeet. Even when Vieira started to teach at 15 years old, she had no shoes. In those days she had to wait three months before receiving her first salary. After that, she was never again without shoes.
Still a child
Vieira attended Santa Rosa Primary School where there was a secondary department which allowed students to go up to fourth form. When she was of age, she took the London-based College of Preceptors Examination.
Afterwards, there was nothing to do, especially as she finished school early, at just 14 years old! So at 15, when she started to teach at the same school, it was as if she still wanted to play with her friends.
"It was like I was still a child wanting to go and play. But the nuns who ran the school put me to teach smaller kids, so I now had to stop playing and take up responsibility," she told the Pepperpot Magazine a few days ago during an interview.
While teaching at the school, she continued to do several upgrading courses that were required for entry to the Cyril Potter College of Education (CPCE). She came to Georgetown when she was about 21 years old and despite being severely ill, she was determined to complete college. Because of her illness, she could not go back to Moruca after finishing college as she had to remain on medication. It was what she longed for though; to go back to her village and continue teaching there.
Realising that her new reality was to remain in Georgetown, she thought instead of wasting time, she would go to the University of Guyana (UG). During this time, she taught at Montrose and Vryheid's Lust Primary Schools on the East Coast of Demerara.
In 1987, she obtained a Bachelor of Education Degree from the University of Guyana, thus being the first female from Moruca to obtain a university degree. So eventually, she was recommended to go to the Education Department in Region Four to work as a supervisor. Having performed such duties exceeding well, she was then appointed district education officer (DEO) in 1998.
She later returned to UG and obtained additional qualifications in the form of a Diploma in Public Administration in 1993. Recognising the esteemed qualities possessed by Vieira, the Ministry of Education then appointed her to act as the regional education officer (REO) for Region Four at varying periods during 1997 to 2004, and in 2004, she was appointed the first female secretary of the TSC, where she served until retiring in March 2011.
Helping Other Teachers
Vieira was then rehired as the technical officer/ facilitator to the chief education officer in February 2012 and she continues to function in this capacity.
Reflecting on her almost five decades in education, Vieira said she is glad that she took the time to qualify herself, and that she also did the same for her two children Tawanda and Francine, whom she raised as a single parent. Her son is a farm manager in Zimbabwe, Southern Africa, and her daughter is a qualified aeronautics engineer.
"Education takes you out of poverty and if I hadn't such, I would not have been where I am today. The position that [What] I have, I didn't get it easy. So to me, once you have an education, you can achieve your goals. I would always encourage children to remain focused and grasp as many educational opportunities as they can," she expressed.
Poverty was surely one of the many challenges along the road for Vieira. "We come from a very poor family. I would tell my daughter that now she can fry an egg and eat one, but in our time we used to put it in the pan and spread it out and that had to be divided into four; and that had to take us through till midday."
Vieira has used her position to help struggling teachers from all across Guyana, especially those in the hinterland who may not know their rights, or all of the benefits that they may be entitled to. "I have a special interest in the hinterland communities. Many times you have to beg the other agencies to attend to those in the hinterland in a timely manner, because sometimes they don't have anywhere to stay and the cost to travel is so high. I know the terrain and what they have to go through."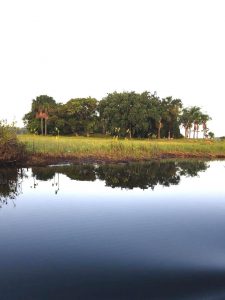 Vieira said she too struggled a lot in her days when no one came to her assistance, not even her own ministry. She was denied a scholarship, even though she was very much qualified for it and even after requesting help to deal with her serious illness, she was denied again. "I wouldn't like anyone to go through that, but now I am happy that our Amerindian brothers and sisters are getting scholarships to study abroad."
Vieira received the 'Women's Wall of Distinction' Award from the Ministry of Amerindian Affairs, the 'Outstanding Achievements in Education' Award from the Ministry of Education and the 'Invaluable Contributions in Education' Award from the Department of Education in Region Four. The Department of the Public Service in 2019 also honoured her for 48 years of outstanding service.