By Naomi Parris
FOR many women hair can mean so many things, especially for women with kinky and coily hair texture. However, sometimes finding the right products to care for curly hair texture can be difficult.
Being a girl with natural, thick, curly tresses herself, Iona Primo has had her own experiences with finding the right products for her hair; nevertheless, the young woman recently found a solution with all organic ingredients to give her hair the nourishment and care that it needs.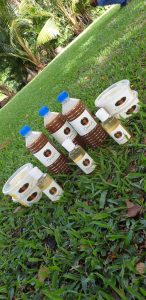 Not wanting to keep the secret ingredients to her luscious locks to herself, the 28-year-old decided to share her natural hair products with the rest of the country through her small business.
"My business is called 'Queen P', I first [thought] of that name because my whole life I've been using that name. The products that I offer for now, are just four; [however], there is so much more I want to introduce to the business. The four are my raw African black soap shampoo, my growth-oil serum, my whipped shea buttercream and whipped body; now these four products are all available for purchase."
Primo disclosed to the Pepperpot Magazine that she had been sitting on the initiative to launch her business for over a year and that it was only two weeks ago she took a leap of faith and made her hair care line public.
"I am very passionate about hair and natural hair in general and any hair in general, but mainly natural. I've been planning this business for over a year and I just decided two weeks ago that I'm not going to make excuses and just launch it and I decided to do it on my birthday which was August 28," she said.
Additionally, the young woman stated that despite an ongoing pandemic and the business being fairly new, the response she has been receiving has been astonishing. "It wasn't difficult for me to launch my business during this pandemic, because the response that I'm getting is phenomenal and I'm so happy that I decided to do it now and not wait until this whole pandemic is over," she said.
However, the entrepreneur noted that when the chaos of the pandemic is over, she intends to host a proper launch party to celebrate her product and the dedicated customers and fans she has since gained during her business tenure.
A self-discovery journey
Having been on her own journey of self-discovery as regards learning to care and love her natural tresses, Primo disclosed that she was experimenting with several products which did more harm to her hair rather than nourish it.
"About a year ago, while I was a 'loose' natural, I was going through different phases in my life and there was one point where I was using so many different products that weren't giving me what I was looking for, so I just made the decision that I was going [to] use simply natural products and they all just [sic]for me," Primo said.
The young woman noted that changing her hair regimen to all-natural/organic products has seen her hair flourishing, "They have not only helped with the health of my hair, but the [products] also thicken my hair and repaired damaged ends and so forth; so I said, you know what, maybe I should just start a business using these very products," she said.
An evolution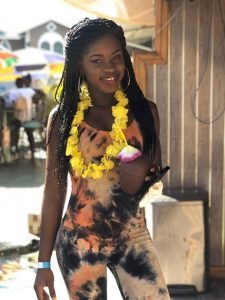 Reflecting on her hair journey, Primo said, "I am an advocate; I would advise any woman to go natural simply because it's like our whole lives growing up we've been taught that straight hair is the [beautiful] thing. Me for one when I was younger, when I saw these girls with nice, straight [or] curly hair I always wanted that."
She added that after some soul-searching with herself and research about natural hair, she grew to love and appreciate her hair for what it is and its diversity.
"I grew to love me and my natural self and my natural hair and I think that [time] as revolved because a lot of women are now seeing all these different hair textures and how beautiful natural hair really is," she said.
Primo noted that given the situation with the pandemic and many persons being at home following a partial lockdown, there has never been a better time for one to embark on their own hair journey and experiment with new products, especially all-natural organic products from her hairline, 'Queen P'.