— calls for an immediate end to the violence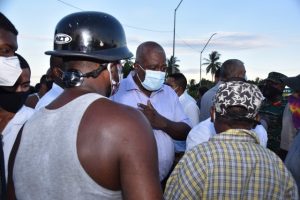 FAMILY members of Harish Singh, 17, who was killed in the backdam of Number Three Village, West Coast Berbice on Wednesday, said they have been receiving threats since the killing of the Henry cousins and have been fearful for their lives ever since.
"Every day they come and threaten us, since Monday. This morning I was taking food for my husband and when they saw me they started calling out to me and I had to turn back with my car… we can't even sleep, we have to go to people's house to sleep… we can't stay here anymore, we have to go away," Maymattie Balgobin, an in-law and resident of the home said.
She related her story to Prime Minister, Brigadier Mark Phillips, who visited the home of Singh on Wednesday. The prime minister has called for an immediate end to the violent protests that started on last Sunday.
He was accompanied by a team that comprised Local Government and Regional Development Minister, Nigel Dharamlall; junior Public Works Minister, Deodat Indar; Labour Minister, Joseph Hamilton and Human Services and Social Security Minister, Dr. Vindhya Persaud.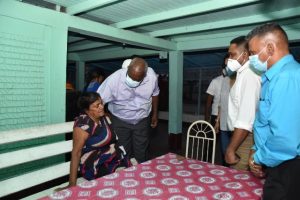 The members of the delegation met with the grandmother of Haresh Singh, Basmattie Singh; his aunt, Roshnie Singh; sister, Amrita Singh; and other relatives.
During the visit, the delegation also stopped to speak with residents of Bath, who complained of being unable to traverse in or out of the village as a result of blockages across the West Coast of Berbice and threats being made against their lives.
Chairman of the Bath/Woodley Park Neighbourhood Democratic Council (NDC), Krishna Sewlall, said the protest action across the West Coast Berbice has had an adverse effect on the community.
"This is a heavy cash crop community, a lot of our farmers, they sell at Stabroek Market and Bourda, and their produce has been stuck in the village for three days, and we're talking about millions of dollars' worth," Sewlall said.
Also present during the outreach were the Commissioner of Police, Nigel Hoppie; Chief-of-Staff of the Guyana Defence Force, Brigadier, Godfrey Bess; and Director of Prisons, Gladwin Samuels.