KRIS Nandalall, 27, of Chesney Village, and Sampson Gangaprashad, 24, of Tain, East Berbice, Corentyne, were jointly charged with the murder of Orlando Michael Jonas, who was killed on September 5 on the Chesney Public Road.
The duo appeared at the New Amsterdam Magistrate's Court on Tuesday, where the charge of murder was read to them virtually by Magistrate Renita Singh.
They were not required to plead to the charge and were represented by Attorney Donovan Rangaiah in association with Sanjeev Datadin and Motie Singh.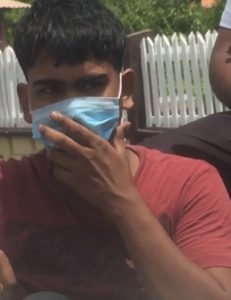 According to information received, at approximately 19:35 hours on Saturday, September 5, Jonas of Lot 500, Number One Road, East Berbice, Corentyne and his co-worker Mahendra Ramnarine, 19,  both construction workers, were making their way home on  bicycles  when
they turned around and approached two men who were on the opposite side of the road.
An argument started between them and the men and a scuffle ensued during which Jonas was stabbed in the abdomen and face and a bicycle was thrown on him.
Ramnarine was slashed to the face. He moments later rode off and Jonas followed but collapsed a short distance away. He was later picked up by the Police and taken to the
Port Mourant Hospital where he succumbed.
The two suspects initially told investigators that Jonas and Ramnarine attempted to rob them; however, in an initial interview with Ramnarine, he denied the allegations.
During the court hearing, the suspects told Magistrate Singh that they were beaten by the police. Family members of the two accused who were present told reporters that they are convinced that the men are innocent of the crime and were beaten and made to sign the statements admitting guilt to the crime.
Meanwhile, the family of Jonas, on Monday evening and Tuesday morning, staged a protest at the Number One Public Road, calling for justice. The two accused will return to court on September 29 and the matter was transferred to the Albion Magistrate's Court.