THE Guyana Police Force (GPF) has issued a bulletin for the arrest of Richardo Mitchell called "Cardo", who is wanted in connection with the murder of Winston Robertson, who was killed on August 10, 2020 at Cotton Tree Public Road, West Coast Berbice.
Mitchell's last known address is Lot 30 Bennet Dam Rosignol, West Bank Berbice. He is 31 years old.
Anyone with information that may lead to the arrest of Mitchell is asked to contact the police on telephone numbers 333-2151, 333-5564, 333-3876, 232-0313, 226-6978, 2258196, 911 or the nearest police station.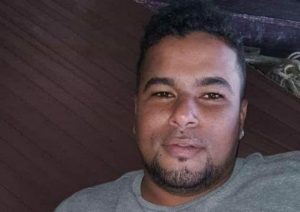 The Guyana Chronicle had reported that Robertson, father of two of Cotton Tree Village, West Coast Berbice, succumbed to injuries early Tuesday morning.
Robertson called "Highrollers" or "Redman", a contractor and Fisherman of Lot two, Cotton Tree Village was shot on Monday evening at a wash bay in Cotton Tree, allegedly by Mitchell.
According to information received, at around 19:30 hours on Monday, Robertson, who was in front of the yard at a wash bay, was confronted and shot by Mitchell who, as reported, accused him of having an affair with his wife.
An eyewitness told the media that Robertson was standing with a female friend, when her husband, armed with a handgun, approached from behind. He gained access to the yard by scaling the back fence.
Guyana Chronicle understands that, on Sunday evening, the suspect physically abused his wife but she managed to escape and sought refuge at a friend's house.
It is alleged that, on Monday, while at the friend, her husband found out she was there with Robertson and immediately came up with the plan to take action.
After firing at Robertson, the enraged man went after his wife who ran to seek refuge in the upstairs of the friend's house, but the suspect ran behind her, grabbed her by the hair, beat her and dragged her down the stairs and unto the road. After beating her mercilessly, the man quickly made good his escape.
Robertson, after being shot, attempted to drive himself to hospital but instead crashed his car in the process. He was subsequently rescued and taken to the Fort Wellington Hospital.
He was later transferred to the New Amsterdam Hospital where he succumbed on Tuesday.