"BARBERING is my passion, and with each passing day, I am growing to like it better," says David Pereira, owner of the West Side VIP Barber Shop located at Vreed-en-Hoop, West Demerara.
Pereira's barber shop is strategically placed. He occupies the first booth on the left-hand side of the walkway as you step outside of the door to the Transport and Harbours Department (THD) wharf and has been functioning from that location for the last three years and is doing quite well so far, he says.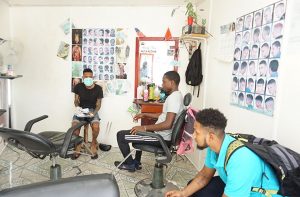 "I like my job. I take it seriously and have a great amount of respect for my clients and that is the bedrock of the professionalism that is required in this business. Put it this way: you might have a customer with whom you have a casual relationship, but that does not say that if he requests that his hair be cut in a certain style you should go against that and do what you feel would take him better," he advised.
"The other thing is that we should both have respect for time. Come into the shop and get your job done in the order as you have come and that will avoid any bad feelings or even a confrontation. So in that way we get things done professionally on the basis of respect for each other and each other's time," Pereira reasoned.
He is polite and does not execute jobs on the basis of age- he does haircuts for the young and the elderly. He advises against being biased towards persons of a certain age, adding that his service is not only for the young.
And as for styles, he has a variety of these posted on his wall. All the client has to do is choose.