Working with their children in mind
THE transformation of the Transport and Harbours (T&HD) Goods Wharf at Vreed-en-Hoop on the 'West Side' (West Bank Demerara), from a hitherto noisy arena characterised by squeaking winches and an occasional greasy smear, into a well-stocked and neatly organised fashion mall of sorts, is amazing.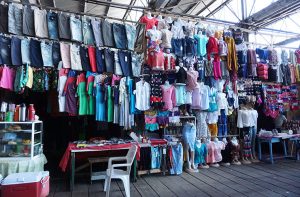 Today, more than 20 young entrepreneurs have set up a magnificent display of clothing and accessories, literally converting the building into a colourful and spectacular 'A to Z' fashion mall, where they daily ply their ware, offering the best in the line of fashion at remarkably affordable prices. And so popular has it become, that persons from all over Region Three (Essequibo Islands-West Demerara) and further afield shop there by choice.
The vendors offer for sale, the best in the line of predominantly female clothing and accessories and a wide array of dresses, tops and accessories; jeans, high-end handbags and umbrellas. For the men, they offer jeans, jerseys, hats, caps and pouches.
From as far away as the Vreed-en-Hoop junction, the clothes vending mall could be spotted, presenting dozens of boutiques, imposing and pleasant to the eye.
Meanwhile, at the Vreed-en-Hoop Junction, there is also fantastic display of predominantly women's wear, attractively displayed in front of stores, but not essentially causing traffic congestion. A few years ago, there was a discussion about reclaiming some of the parapet lands in front of houses and other buildings so as to ease traffic congestion.
But what is commendable is the cleanliness, absolute order and uniformity employed by the boutique vendors in displaying their wear. The wharf vendors have been selling out there for more than 10 years, and through this means, many unemployed young women have been able to find themselves meaningfully and gainfully employed and so provide for their children.
Asked by the Pepperpot Magazine, what sales are like on an average day, and what keeps them motivated to continue despite the odds, one vocal female vendor replied: "There are good days when business brisk, but other days when it is slow. But we keep motivated in the knowledge that this is what is giving us and our children a daily bread and the opportunity for them to attend school and stay in school, allowing them an opportunity to soar to great heights so that their lot can be better than ours."