A 47-YEAR-OLD taxi driver, Matthew Munroe, who is charged for the murder of schoolteacher Kescia Branche was on Tuesday further remanded to prison after the police file was said to be incomplete.
Police Prosecutor, Inspector Neville Jeffers when the matter was recalled before Chief Magistrate Ann McLennan for report explained that the police was still awaiting DNA results from the matter.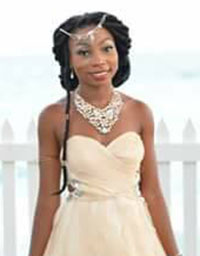 However, Munroe's attorney Nigel Hughes made an application to the court for the copy of the records of the calls placed by his clients and Branche, video footage of the time when his client crossed the Demerara Harbor Bridge and video footage of the interview between his client and the police to be given to him.
Prosecutor Jeffers requested sometime for the file to be completed and as such the matter was adjourned until February 1.
In December 2016, Munroe was charged for killing Branche on November 7, 2017 at Georgetown.
The taxi driver of Diamond Housing Scheme, East Bank Demerara was not required to plea to the indictable charge.
Branche, a mother of one, who resided in Cummings Lodge, Greater Georgetown, was last seen on November 4, when she left for a night out with her friends.
However, her unconscious body was found in the vicinity of Princes Street and Louisa Row the following day. Her left leg was broken and there was evidence that she'd sustained multiple head injuries.
The Richard Ishmael Secondary School teacher died at the Georgetown Public Hospital two days after being found battered in the city. A post-mortem indicated that she died as a result of brain haemorrhage.
During police investigations, three suspects who were being questioned regarding the death of Branche, were released. The father of Branche's three-year-old son was released on November 14 and placed on station bail, along with two police constables. The two officers were later charged departmentally for neglect of duty, consuming intoxicating liquor while on duty, improperly entering licensed premises and acting in a manner likely to bring discredit on the reputation of the force.
At the time of the trio's release, police were seeking to contact a taxi driver whose cell phone number appeared repeatedly on Branche's mobile device.
The taxi driver's car was impounded at the Brickdam Police Stationa after he had reportedly left the country after Branche was found with a broken leg and in an unconscious state on November 5.
Investigators are of the opinion that the driver may have been the last person to see the teacher alive.
When arrested, the taxi driver claimed that his car was involved in an accident after he drove into a pothole, but according to a police report, the damages on to car are consistent with the injuries Branche received.