"Art is a part of me. It's something I've done all my life."
THESE are the words of 80-year-old Jorge Bowen-Forbes, who was recently endowed with the Lifetime Achievement Award at the Guyana Visual Arts Competition and Exhibition hosted at Castellani House.
Forbes is an international artist who has lived abroad for most of his career. According to him, he has more than 1,000 pieces — some of which are on display in several parts of the world. His long and distinguished career has seen him garnering 251 international awards in all, including his most recent achievement.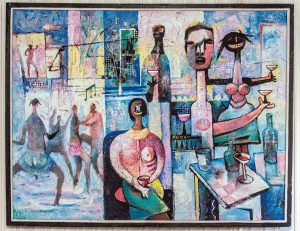 In the beginning
The genesis of his career however, dates back to when he was a three-year-old boy scribbling on the walls of his mother's house. Though rebuked many times for his art, he persisted. Eventually, his mother would realise that her son had an unwavering interest in art and purchased his first art book and crayons. From that day, Jorge would draw and colour, endlessly aiming to hone his skills.
Although he taught himself art in his formative years, his formal art education began one day after he was spotted by art pioneer, E.R. Burrowes.
"E.R. Burrowes saw me one day on the street with one of my paintings and he was surprised, so he made me a member of the Working People's Art Class, even though I was a boy," he recalled.
Burrowes supplied young Jorge with oil paint with which he went on to create his piece 'Cane-cutters,' which won him his first award.
Along the way, Jorge realised that he was gifted in painting — particularly in painting with water colours, a style only few can master, according to him. "I'm known all around for my water colours," he asserted, "They're different from all other works… it's very individual."
He was not always the beloved artist he is today, however, in fact, Jorge recalled a time when his art was being rejected in all corners of the world until he stumbled upon a new water colour technique.

An act of fate
After visiting an exhibition in New York many years ago, Jorge said that he felt as though his art was inferior. When he got home, he looked at one of his paintings with disdain but could not discard them, since the paper on which they were done was expensive. Instead, he opted to wash off the paint.
"When I looked down at the running paint, I saw an abstract design and immediately turned off the tap to let the design dry," the artist recalled. This piece was so distinctive that Jorge was able to cop his first medal for it from the American Water Color Society.
Inspired by the distinctiveness of the piece, he decided to develop that particular style and managed to cop several more awards from this 'run-off' technique.
Furthering his art career, Jorge also worked with many of the major greeting card companies by helping to create cards using his work. Once, he even opened his own greeting card company- Lotus Greeting Cards, but was unable to compete with the large companies.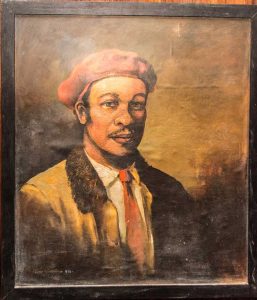 "I returned to Guyana in 2009 and retired from the rest of the world," Bowen-Forbes said. He sought to establish his greeting card company here or at least sell the 250 samples he has to someone. This however, has not happened for one reason or the other.
After returning too, the international artist has been pushing to have a larger, more organised national art gallery. Despite having the National Art Gallery at the Castellani House, the artist expressed his sorrow at its small size.
Cognizant of his age too, Jorge said, "I would like to start passing on what I know to someone." This comes on the heels of many attempts, including the resuscitation of the Guyana Visual Arts Competition and Exhibition, to salvage Guyanese art.
Reflecting on his entire career at last, he highlighted, "What I had envisioned myself as a child, I have surpassed that."