–gives new hope to 43 families
FOR his 43rd Wedding Anniversary, American businessman and philanthropist Joseph Roetheli on Tuesday cut the ceremonial ribbon signalling the official opening of the New Hope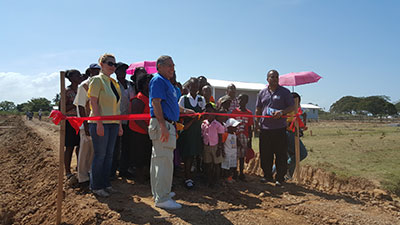 Community Development Project at Onderneeming, West Coast Berbice.
The project, which is intended to benefit 43 families, is a partnership between Food for the Poor Guyana Inc. (FFP), the Lil' Red Foundation and Major Giving, a donor agency based in Florida.
Its commissioning was celebrated with prayers, poems, popular sayings and their meanings, dances, songs, skit and drumming by students of Hopetown Primary School and residents of Hopetown.
The New Hope project, which comprises 43 houses replete with sanitation facilities, water components and a community centre,
was financed by Roetheli, an American.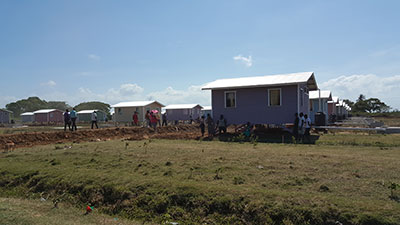 Roetheli, called "Uncle Joe", told the large gathering at the function that seeing that his wife, Judy, is ill and unable to travel, he decided to dedicate the commissioning of the project to her as a gift on their anniversary.
Noting that projects such as these are necessary to build relationships with people who could use some help, the grandfather of six said this is his fifth to date, and his way of giving back since he began partnering with FFP back in 2009.
A HELPING HAND
Region 5 (Mahaica-Berbice) councillor, Carol Joseph, who spoke on behalf of Minister of Communities, Ronald Bulkan recalled that since FFP came to these shores 25 years ago, it's focus has always been on giving a helping hand rather than giving hand-outs.
She said that in this manner, FFP has succeeded in breaking the cycle of poverty here, and afforded many people the opportunity of achieving economic independence, sustainability and self-sufficiency, for which the minister is eternally grateful.
She also commended Roetheli for the significant role he's played in the project, whereby through his generosity, 43 West Berbice families will now have a roof over their heads and be homeowners for the very first time.
Joseph said that in this regard, the name of the project was most fitting, since it offers new hope to those who will benefit and transform their lives for the better.
DREAM COME TRUE
Secretary of the Hopetown Multi-Purpose Co-operative Society, Miriam Foster said when they received the application from FFP for 43 house lots for the construction of as many houses for the underprivileged, it was a dream come true.
Fraser said the 43 families now have one year to pay off the $100,000 each for their house lots, since FFP has paid in full the sum of $4.3M to the organisation.
She commended FFP and Roetheli for their sterling contribution to the development of the housing project, and said she hopes that the ministry keeps its promise to the community to provide it with electricity and water by early 2017.
On behalf of the 43 families, Marla James, a mother of seven, said she is very happy to finally have her own home since she is renting a place which is in a deplorable condition.
James, who works two jobs to make ends mee, thanked FFP and FFP and Roetheli for making her dream of being a homeowner come true so that she and her children can have a better quality of life.
Also making remarks were FFP Chairman, Paul Chan-A-Sue; PRO Wayne Hamilton; and Vice-President of Major Giving, Natalie Carlisle.