By Nafeeza Yahya
THE battered body of a 25-year-old man was discovered in a pool of blood in his Number 60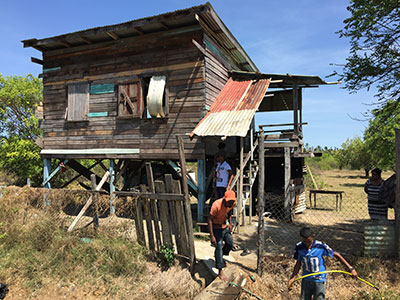 Village, Corentyne yard early Tuesday morning.
Dead is Ravi Kumar Sharma called "Peter", a fisherman of Number 60 Village Squatting Area, Corentyne. His body bore several chop wounds, a broken jaw and hand.
He was last seen alive on Monday evening with a suspect who has reportedly confessed to killing him due to an altercation while they were consuming alcohol.
This newspaper understands that while imbibing, the men got into an argument and the suspect left and returned with a machete. He then chopped Sharma about ten times to his body. It is unclear what prompted the argument.
Sharma's mother, Devica Deo related that whenever her son imbibed heavily he would usually ask her to leave the home. "I wasn't home so when he go home yesterday (Monday) I see he de drinking and he tell meh mommy me nah want you stay here…guh way, me ask he where me gonna go he tell me leh me just go go anywhere."
Deo recalled that around 17:30hrs she left to spend the night at a relative. "I left and go sleep at a relative and when I come home this morning to go prepare his stuff to go work I see he lay down in the yard so me seh this bai always drink rum and does sleep all over me just tell he wake up and go get ready to work," the woman related.
She said she did not know he was dead until she returned from the washroom and inspected his body closer at which point she realized he was bleeding and not responding. "Meh start holler and them neighbour come call the police."
Meanwhile, Ravina Sharma, the sister, told this newspaper that her brother and the suspect were "best friends" and would do almost everything together, including "drinking". She said both of them are fishermen.
Sharma who lives a few Villages away explained that when she received the news of her brother's death she immediately left for the scene. On arrival after the crime scene was cleared by police, Sharma said she was greeted with a ransacked house with almost everything inside broken and blood stains in the living room and along the steps towards where the body was discovered. "This looks like they had a big fight cause everything thing bruk up and it look like them start from upstairs and he collapsed and dead in front the yard."
According to a police source the suspect visited the Number 51 Police Station Tuesday morning and reported he had "broadsided" Sharma after they had a fight. He was held for questioning and subsequently taken to the scene. According to police he later admitted to killing Sharma.