– earlier disclosure could have compromised police operations, says Crime Chief
THE police yesterday disclosed that a criminal gang has been operating in Georgetown, conducting its operations out of the Albouystown community in South Georgetown.
The name of the gang is 'Hot Skull' and members of the gang use a sign which is often drawn on the gang members in the form of a tattoo and placed in the centre while other artwork is engraved around it as a border.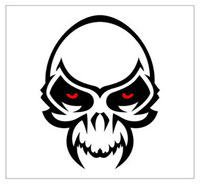 This disclosure was made by Crime Chief,Deputy Commissioner of Law Enforcement Seelall Persaud, who was at the time speaking at the Guyana Police Force Christmas security plan presentation at Eve Leary yesterday morning.
Asked why the police had not announced this earlier, Persaud explained that it would have been premature and could possibly have compromised operations to monitor and penetrate the gang.
He pointed out that four of the gang members were sentenced to prison recently, while several others are before the courts for various offences and are on bail. However, one gang member has not been appearing in court and an arrest warrant has since been issued for him.
The three bandits who were fatally shot by police on South Road recently while attempting to carry out a robbery were also members of the gang, the deputy police commissioner stated.
Seelall also explained that many of the shooting incidents in Albouystown are noted and investigated by the police. However, it was still not safe for the police until yesterday to alert the public that the community has a gang based there.
He maintained that the prior non-disclosure of information that there was a gang in Albouystown afforded the police scope to make a big accomplishment with respect to investigations recently, but it is still unsafe to speak of this at present.
The Crime Chief stated that with respect to the 'Hot Skull' gang, it took the police some time to gather information about the gang members and their operations.
(By Leroy Smith)