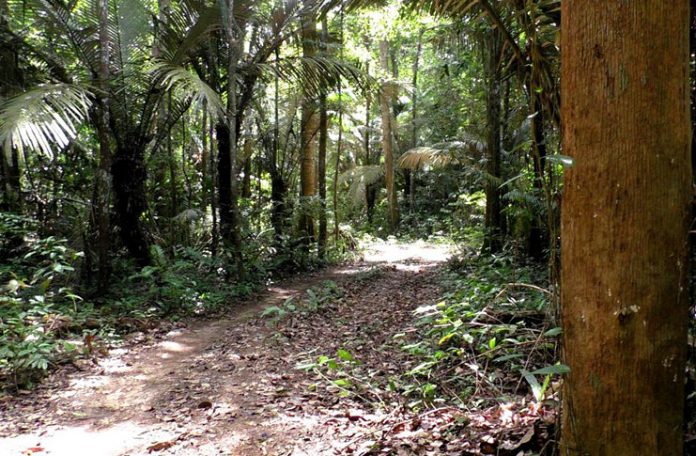 SEVERAL South Rupununi leaders have expressed concern over the construction of a road which was allegedly built by Brazilian miners at the Marudi Mountain and which connects to the bordering Takutu River.
Reports from the area are that the road was built late last year and connects the Marudi mountain area to the villages of Parabara and Karaudarnau. According to residents, the Brazilians actively utilise the road onward to the Takutu River where residents noted there is an active illegal port that is being utilised for the trade.
The issue was discussed by leaders of the Rupununi in recent days, and Nicolas Fredericks of the South Rupununi District Council (SRDC) noted that it was only a few days ago that the road was tracked using a global positioning satellite system (GPS). The illegal road was also photographed by a SRDC monitor from one of the villages.
He said that the affected villages are concerned as they were not aware of the road being built. "There will be more roads built through pristine rainforests, watersheds [and] important habitats with no assessments," Fredericks noted in a debate with other residents about the legal grounds on which roads in mining areas are built.
"These are just other ways that Brazilian miners can do whatever they want and nothing is being done by the relevant agencies. Ask where the Brazilians are taking the gold from Marudi?" he questioned.
Other village leaders in the area are of the belief that the road is used by the Brazilians to smuggle Guyana's gold across the border. Persons in the Rupununi have noted that roads passing through villages are sometimes built with the blessings of village councils.
It is not the first time the village of Parabara and its council have been named in activities which some residents noted appeared shady.
Last year the SRDC expressed concern over the presence of several illegal airstrips at Parabara in the South Rupununi, an issue which it identified as one of several challenges facing the Wapichan Indigenous group.
In November last year, the findings of the Commission of Inquiry (CoI) into the presence of an illegal, foreign aircraft in nearby Yupukari on September 13, 2016, included a report that the Toshao of Parabara, "has clear knowledge" of the involvement of residents there in the operations of an illegal aircraft, at an unauthorised landing strip in the area.
Supporting documents of the CoI included a police report that pointed out that several persons were involved in the maintenance and monitoring of the airstrip, located some seven miles from the Parabara.
The police reported, too, that the village captain had clear knowledge of his "people's involvement in the maintenance of the airstrip."