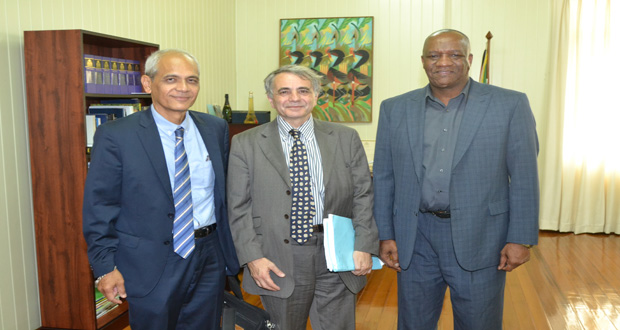 Guyana has reaffirmed its commitment to fighting the effects of climate change as it prepares to participate in Conference of Parties (COP) 21 Climate Change Conference in Paris in November.On Thursday Ambassador/Representative of France in charge of the preparation for the Conference of Parties (COP) 21 Climate Change Conference Jean Mendelson accompanied by French Ambassador to Guyana and Suriname Michel Prom paid a courtesy call on Minister of State Joseph Harmon at his Ministry of the Presidency Office.
Ambassador Mendelson explained that he is currently on a mission to several Latin American and South American countries to discuss the effects of climate change and how these countries are preparing for the COP21 Climate Change Conference.
The Ambassador also revealed his intention to ensure that there is agreement and consensus among all national contributors, as focus will also be placed on reducing the effects of climate change.
Meanwhile, Minister Harmon told the Ambassadors that climate change for Guyana is not just a notion, but a very real issue since the country is below sea level and susceptible to disastrous floods.
"If we are not in a position to take measures to prevent or reduce the effects of climate change, Guyana will be at a great risk of loss, damage and massive injury to our infrastructure," he said.
Minister Harmon noted that government does not view COP 21 as a "light" academic exercise, but a serious one, a release from the Ministry of the Presidency said.
He revealed that Guyana is investing extensively and building capacity to successfully deal with issues of climate change.
The COP21 Climate Change Conference will be held in Paris, France from November 13 to December 15, 2015.