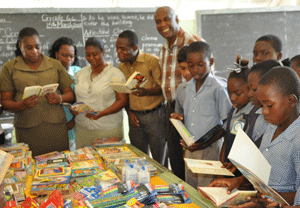 BELLADRUM Primary School pupils and women of the Trafalgar/Union Community Development Council (CDC), all West Coast Berbice villages, were recently the recipients of a number of gifts from the Guyana-America Faith Partners Incorporated (GAFP), a charitable organization based in the USA.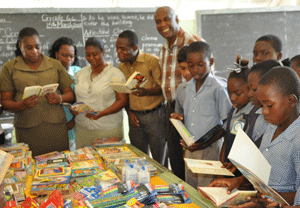 Belladrum Primary received a barrel full of school books, teaching aids, and other supplies such as crayons, markers and pens, while the CDC women were grateful beneficiaries of six electrical sewing machines, needles, threads, a quantity of cloth, electrical irons, and other items they will use to begin a sewing project as an economic venture.
The US-based organization made the presentations at the Belladrum Primary School, and at the CDC Office at Trafalgar respectively. Secretary of the organization, Mr. Dixie Peters, who is based in the USA, made the presentations, which were witnessed by Mr. Abraham David, Secretary of the Guyana branch of the GAFP, and Mr. John Piggott, who also belongs to the local Chapter.
Donations to the primary school were received by Headmistress, Mrs. Janice Grant-Moriah, while those for the CDC were received by its President, Mrs. Lloyda Angus.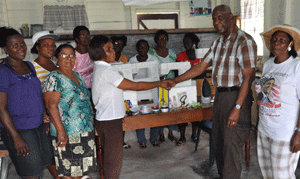 In brief remarks at both presentations, Peters told the beneficiaries that the gifts were in keeping with the GAFP's policy of supporting the education of children and empowering women in rural areas of Guyana who were socially and economically challenged.
He urged the women of the CDC to work in unity towards achieving high standards, so that their products would not only stand out from the rest, but gain them markets of well-satisfied customers, and justify the faith the donors have in the organisation.
The women are working towards starting their sewing project by month-end, and are hoping to capture markets for school uniforms and other items of clothing as their operation progresses.
Both Grant-Moriah and Angus expressed their gratitude to the GAFP for their kind gesture, and wished the body greater success in its charitable works.
The GAFP was formed in the USA in 2007 by Mrs. Cecily Peters, daughter of former Head-teacher, Mr. Jordan of the Number 29 Village Primary School, in West Berbice.
The charitable body was immediately supported by members of the St. Francis-in-the-Fields Episcopal Church in Malvern, Pennsylvania, which has a local branch in Guyana .