AN HISTORIC event which unfolded recently in the mining town of Linden has seen the Guyana Beach Football Association (GBFA) and the Linden Care Foundation (LCF) join forces to promote the services of the latter through beach football.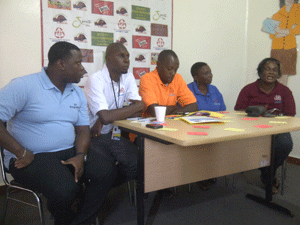 The agreement, which is two years in duration, will see the Foundation offering its full line of services to the members of the beach football Association over the agreed period.
In return, the Association will partner with the Foundation in advertising and otherwise assisting with all its services and promotions, and lending it other critical support in executing its goals and achieving its mission.
At a simple ceremony held at the LCF Secretariat, GBFA Coordinator, Rollin Tappin, expressed his appreciation for the establishment of such a significant partnership.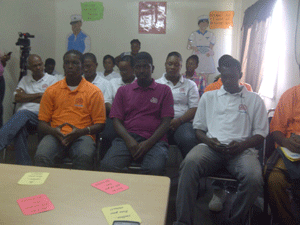 He noted that the GBFA, which was established three years ago, had always been seeking to assist, in some way through the Foundation, to develop the sport and at the same time spread the message of awareness  and prevention of HIV/AIDS.
Tappin said his organization has succeeded in making some inroads since its establishment, and further plans executing a number of community projects which would be done through collaboration between his organization and the Foundation.
One of the achievements of which he spoke is their succeeding in sending a team to the first ever international beach football tournament last November in Trinidad & Tobago, which saw sixteen countries in hot contention.
On that outing, Guyana finished third, with three of their members being selected to represent a Caribbean All-Star side in Virginia come  July at the summer tournament in the USA.
Guyana has since been invited to participate in a tournament in Antigua later this month, and will be sending twelve players again as the country looks to get some more of its players into the All-Star side.

| | |
| --- | --- |
| | |
With its natural affinity for the sport, Guyana will be looking to launch a local beach-football grassroots development programme in 2012, as this would be the launching pad for all the affiliates in the Guyana Football Federation.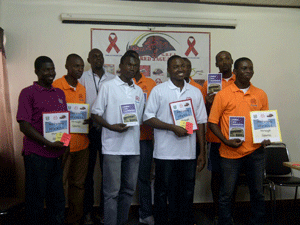 Among Linden Care Foundation members present at the signing of the agreement were Sharma Allicock, Paulette Sydney and Naomi Cox who all made presentations on behalf of the organization.
The Linden Care Foundation has been in operation for over ten years, offering support services and testing for HIV/AIDS in the mining town and its environs.
In all that time, it has contributed tremendously to curbing the spread of HIV/AIDS through education and awareness, and extending educational services to those who have responded to its care.
The Guyana Beach Football Association (GBFA), which was established three years ago to promote a new aspect and department of the general sport of football, commenced its activities in the mining town of Linden, since its facility was suitable to accommodate the sport.
The Association operates from the Christiansburg Community Centre ground where a beach football court has been established.