–new innovative and environmentally friendly construction methods being adopted, Housing Minister says
CONSTRUCTION works are progressing rapidly on 100 new low-income homes at Great Diamond, East Bank Demerara (EBD).
Housing and Water Minister Collin Croal, on Monday, during a walkabout exercise at the construction site, said that a number of projects will be rolled out to meet the growing demands of the housing market.
"During our budget speech and even announcements by our President, we would have alluded to a number of houses being constructed and that is to respond to the market," Croal said.
Further, he said there will a renewed focus on targeted home constructions rather than just allocating house lots.
The first 50 homes will be constructed using dovetail metal and concrete, while the remaining 50 will be constructed using recyclable materials. These are both methods that were introduced during the hosting of 'Building Expo' last year.
Dovetail sheets are cold-rolled metal steel sheets used for reinforcing thin lightweight concrete floors on wooden, steel, or other bearing constructions.
"This project here is a collaboration from local investors, they are a Surinamese company. They are constructing 50 low-income houses, the exact size to our type of model houses which is 600 square feet, similar with two bedrooms with the bathroom or the washroom area and the kitchen for dining," Croal related.
He added that the first 26 houses will be completed by this month end while the remaining 24 will be completed in March.
"Immediately, we will start putting this through our beneficiaries that we have. We have a pool of persons who have already prequalified for low-income funding houses," the Housing Minister related.
He added: "We will see the response from the market and then see if we will have a phase two."
Meanwhile Raj Persaud of Visionary Builders explained that the houses built with the dovetail materials are usually built in the hinterland regions, as they can withstand heavy weather conditions as well as natural disasters such hurricanes.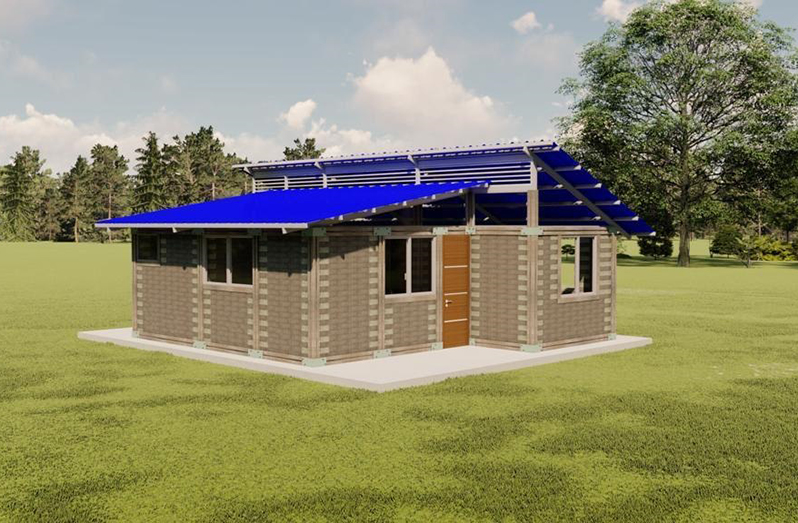 According to Croal, once completed, those houses will cost $5.5 million.
Meanwhile, as it relates to the houses that are being built with the blocks made from recyclable materials, Croal said: "I know there was some stigma when persons heard about the use of recyclable material for making block, but you would have seen on that demonstration at the Building Expo that those houses were very cool on the inside."
He said that the government will be adopting new methods of construction, with the use of sustainable practices and technology.
"You will find innovative construction, new technology and no doubt when we have our next Building Expo later this year, we will find similarly persons who come to Guyana want to explore," Croal said.
He added: "We are excited about this project because you know as part of governments responsibility too is to ensure that we are able to respond to an eco-friendly environment and so these types of houses satisfy the criteria."
Once completed, those will be sold at the cost of $5.9 million.
"While the size of the house is similar 600 square feet, the materials are different and that is why the price is a little a more than the regular low income that we normally have," Croal said.
Speaking briefly with reporters, Alphonso De Armas of South Atlantic's, the construction company undertaking the project, said that the hardest phase of the project, which is building the foundation and curb walls, have been completed.
The recyclable blocks have already been imported and the second phase, which entails the assembling of the blocks, will begin shortly and will be completed by April of this year.
Additionally, Croal that the East Bank corridor has become a front-runner for development, with the many ongoing housing projects as well as the ongoing construction of road networks.
He added: "This is a prime location and that is what happens as a part of development too, even when this area was conceptualised, the four lane wasn't built at that point in time, so [this location] has become like a front [spot]."