–'Agri' Minister tells oppositions MPs; defends budget allocations to sugar, rice industries
IN a heated rebuttal to opposition parliamentarians, Agriculture Minister, Zulfikar Mustapha, on Wednesday, said that Guyana's sugar and rice industries will continue to thrive with investments being made in existing sugar estates, new lands for cultivation and improvements to agriculture infrastructure.
The minister, during his presentation on day three of the 2023 budget debates, said the agriculture sector remains the bedrock of Guyana's economy, with a large percentage of its revenues contributing to the country's gross domestic product (GDP).
Mustapha noted that, in 2023, much emphasis will be placed on increasing rice production with the investments being made in farm to market roads, the opening of new lands, construction of drying floors and the exploration of high-value yielding varieties.
However, A Partnership for National Unity/ Alliance For Change (APNU / AFC) Opposition Parliamentarian, Vinceroy Jordan, accused the government of neglecting the sector and rice farmers.
He said: "Hundreds of acres of rice lands abandoned, left uncultivated because of the high cost of production. Yet, in Budget 2023, there is no measure to cushion this and to assist the hundreds of rice farmers to return to their daily living,"
Responding to the opposition MP's statements, Mustapha said that some 170,000 hectares of rice will be planted in 2023, contributing further to the eight per cent increase that was recorded in 2022.
"When coming to this honourable House, come with facts, don't come with baseless accusations," Mustapha stated.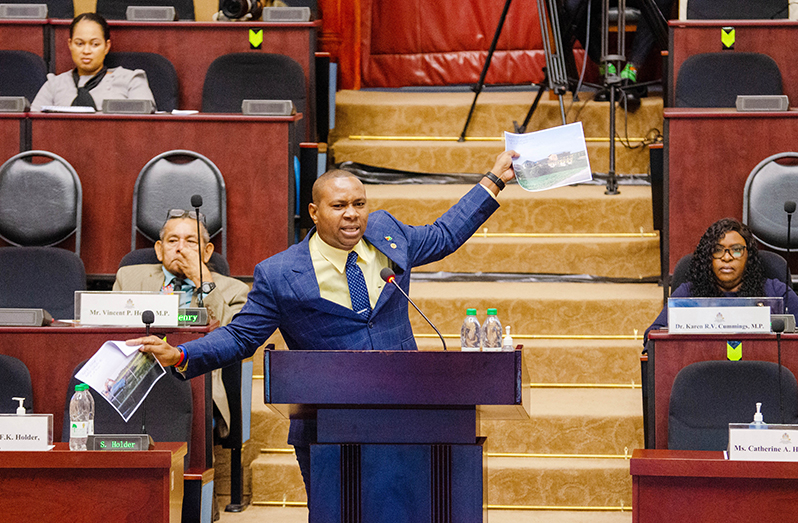 He said: "In the largest rice producing region, Region Five, the MMA/ADA [Mahaica Mahaicony Abary – Agricultural Development Authority] scheme, the first crop and the first term in government we planted 100,000 hectares of rice in that area."
However, Mustapha said that an additional 80,000 hectares of rice will be cultivated in Region Five, while 75,000 will cultivated in Region Six.
"We had the most devastating floods in the history of the country, where all the 10 regions were affected, but we persevered and this crop will rebound and plant another 80,000 acres in that area…Region Six, we will plant 75,000 acres and I am hoping by the end of this month we will cultivate approximately 200,000 of acres of rice."
The increase in production, he said, will see the rice industry growing by 29.2 per cent in 2023.
Further responding to the heckling of opposition members, Mustapha reminded that it was the APNU+AFC regime that had closed four sugar estates, putting roughly 7,000 Guyanese citizens out of a job.
"In 2014, when we left government, the [sugar] industry was producing 216,352 metric tonnes; it moved from 216,352 to 92,256 metric tonnes in 2019….the former AFC leader went to the parliament boasted that they were turning around the industry and that sugar will prosper. In 2019, production fell to 14,000 metric tonnes," Minister Mustapha said.
According to the minster, some 1,500 sugar workers have since been rehired and the Rose Hall sugar estate that was shut down will soon be reopened.
"I want to inform the APNU+AFC later on this year Rose Hall, one of the estates that they closed and after they tried to suffer that area, will be reopened and smoke will be coming out of that chimney," He affirmed.