– stages impressive Spring Luncheon
By Frederick Halley
THREE months after its inaugural launching, which was done via Zoom and saw participation from the Greater Toronto Area (GTA), Winnipeg and Saskatchewan, the Guyanese Canadians for Unity (GCU) is on the move.
At an impressive Spring Luncheon held at the spacious District Lounge, Pickering, Ontario, last Saturday and attended by Guyana-born Canadian Senator, the Honourable Hassan Yussuff and several Guyanese associations representatives, an ebullient Janet Naidu, founder and President of GCU, expressed the view that her association was at a pivotal point now, 'to come together and be re-energised and to help one another feel valued as part of this society and at the same time to give back to Guyana in times of need and where possible."
The aim of the GCU is to work to bring together Guyanese-Canadians and friends of Guyana to preserve and foster principles of human rights, equality, social justice, democracy, peace, prosperity, and unity for the progressive development of Guyana. It also aims to foster social engagement and the preservation of Guyanese heritage within the Guyanese-Canadian community.
The GCU is currently looking into an initiative on human services to help children in Guyana overcome difficulties in their lives.
According to Naidu, "we have been coming together in many ways through the years, through formations of organisations to serve our community here and participate in the wider Canadian landscape. Many of our folks have contributed significantly to this great journey, and many continue to also give back to Guyana through donations to worthy causes."
The GCU head reminded the audience that "for most of us, Canada is our home. We also know that. Guyana is like another home – some of us were born there, and some were born here, even if one parent happens to come from Guyana. We cannot take away the special essence of how heritage plays an important role in our existence. No matter where we go, we carry with us our heritage."
Expressing delight at the in-person gathering, Naidu pointed out that "we have endured the isolation of lockdowns because of the pandemic. The uncertainties of our well-being loomed over us. Today, we continue to brave the dynamics of trying to stay safe. We are trying to get back on track with the happenings in our lives. Let me say that, when opportunity comes, we must seize it."
Naidu cautioned that while "we must keep moving, we must continue to take all necessary precautions to stay safe. With all that's been going on around us in the world, we are coming together – as one people – with our diverse cultural heritage and interests – to share this moment in time.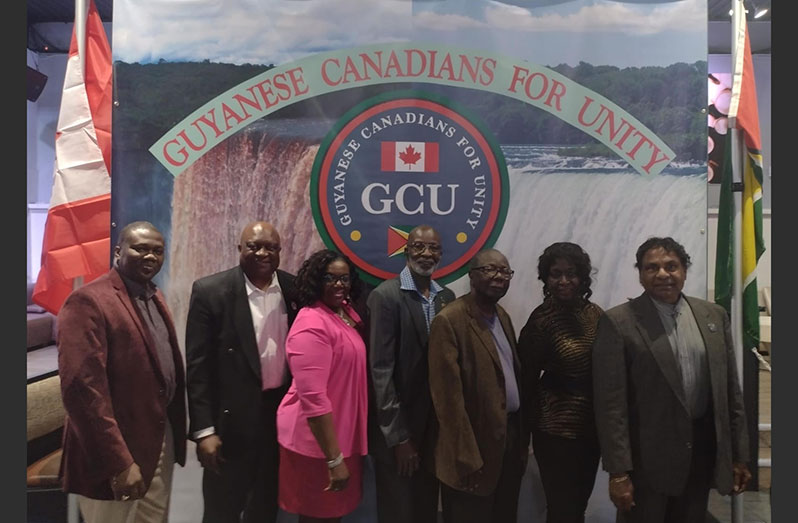 "Let us try to create a sense of belonging within our community. We continue to be patriotic Guyanese living in Canada as Canadians. We are proud of the diversity of our heritage, be it our ethnicity, religion, gender, age, lifestyles, ability and our many unique selves."
According to Naidu, "Apart from preserving our heritage, friendships continue to be formed, memories treasured, expressing care towards each other and we also continue to come together as a community.
"Even though we have left the shores of our birth country, as Guyanese-Canadians we continue to come together to share in our common interest. We not only gather to enjoy everything Guyanese, but we also have that giving-back spirit deeply rooted in us."
Naidu disclosed, "We formed this organisation to continue to foster a similar social engagement in our community. We allow our generosity to come alive where we make a difference in the lives of others.
"We want to be positive, to be united and build on our strengths. Many of us want to have the Canada-Guyana connection – perhaps to go back, visit, travel, and some may want to volunteer in needed causes.
"We must never give up on striving for positive changes. Let us be courageous and try to overcome tough situations. Let's try to jump the hurdles that come our way.
"We in the Guyanese diaspora share these fundamental values and more. If we want to emerge triumphant, we must continue to persevere, especially at those times when we are most tested. Let us stay united, supportive of one another and grow in our strengths."
Senator Hassan, in brief remarks, said he knew the difficulty of building an organisation since he led one which had over three and a half million people and despite the fact that it was so hard and diverse across the country, it was always a challenge.
Senator Yussuff, who is one of Canada's most experienced labour leaders and the past President of the Canadian Labour Congress, wished the GCU and its executive members well in building their organisation, knowing the organisation but equally, of course, sustaining it.
He pointed to the fact that there have been organisations created in the past that brought Guyanese together to ensure that they work in unity, but from time to time, they lost interest and moved on.
Yussuff was appointed by Prime Minister Justin Trudeau to the Senate of Canada in June 2021
He was the first person of colour to lead Canada's union movement. Prior to that,Yussuff worked as a truck mechanic with General Motors for 10 years before getting involved in the labour movement.
In 1988, he joined the Canadian Auto Workers union as the National Staff Representative and later became their first Director of Human Rights. In 1999, he became the Canadian Labour Congress's first person of colour to be elected to an executive position as Executive Vice-President. He went on to be elected Secretary-Treasurer for three terms, from 2002 to 2014, before being elected President in 2014. He was re-elected in this role in 2017.
Last Saturday's programme was interspersed with musical renditions from Mala Harripersad, Madison McNeil-Alexander, Renu Monilall and Tameisha Orleans and a steelpan performance from Alan Ramsarran.Peter Jailall also recited a poem.
Apart from Naidu, the other members of the executive body are: First Vice-president, Jito Naraine; Second Vice-president, Nadira Somwaru; Treasurer, Terrance Charles; Membership Secretary, Roslyn Bacchus; Assistant Secretary/Treasurer, Sachie Ramnauth and Social Media Management Officer, Frederick Halley.