BEING visually impaired is no setback for Lindener, Amin Britton, who is pursuing his goals and is serving his community to the fullest by being involved in community-based projects to enhance the village.
Britton is a resident of Silvertown, Wismar, Linden and he is Chairman of the Silvertown Fiesta Support Group, a non-governmental organisation (NGO) geared towards community development.
He is one of Guyana's first blind cricketers who spent 10 years as a sportsman and went on his maiden tour of Barbados and Trinidad along with his mentor, Ganesh Singh.
Britton is a well-respected leader in his village and he is reading for his Bachelor's Degree in Communication Studies at the University of Guyana (UG).
The villager taught in the public school system for 12 years. He has a wealth of information when it comes to many things, including counselling and community development.
Britton provides information and coordinates all of the projects done by the NGO. Being a close-knit community, they have eight executive who consult to bring about change.
"Without the support of the people and some overseas-based folk, many of our projects would have been an uphill task, not possible and I am grateful for the assistance," he said.
For this year, Britton told the Pepperpot Magazine that the group is looking to attract young people in skills training to become entrepreneurs.
He stated that their target is mainly school drop-outs and they will have programmes such as computer repairs, garment construction and floral arrangements.
These programmes will be done at the home of a member of the group, Wheatland Smartt, where meetings are usually held until a building can be constructed.
"At the close of my studies, I plan to take up a stable family life and might even read for my Master's degree, but as is, I am also a musician and I will sharpen my skills in that field," he said.
Britton added that he can play several musical instruments as well as sing, and he has had several duets with some artistes at studios in Guyana.
Steve McAllister, the herbalist
Steve McAllister is a shop owner in Silvertown, Wismar, Linden and also a herbalist who makes an all-purpose pain oil and ointment.
His brand is the Natural Vibrant Rub for pains, fast relief ointment and oil.
It is non-menthol and is a multi-purpose oil and ointment. Go Local Promoting a Healthy Mind-set is the authorised distributor for the product and they are based in the city.
McAllister told the Pepperpot Magazine that it was a vision that materialised into a small business in 1992, it was solely made as a home remedy and not for retail purposes, but people got wind of it.
They began demanding more of the product and it became a small business.
He added that the ingredients consist of coconut oil, kubanba, (cow feet leaf), cascara, leaf of life, ginger, nutmeg, and aloe vera.
Britton revealed that over time he had gathered enough ingredients and made it into a concentrate, so he could work indoors for a while without having to go out.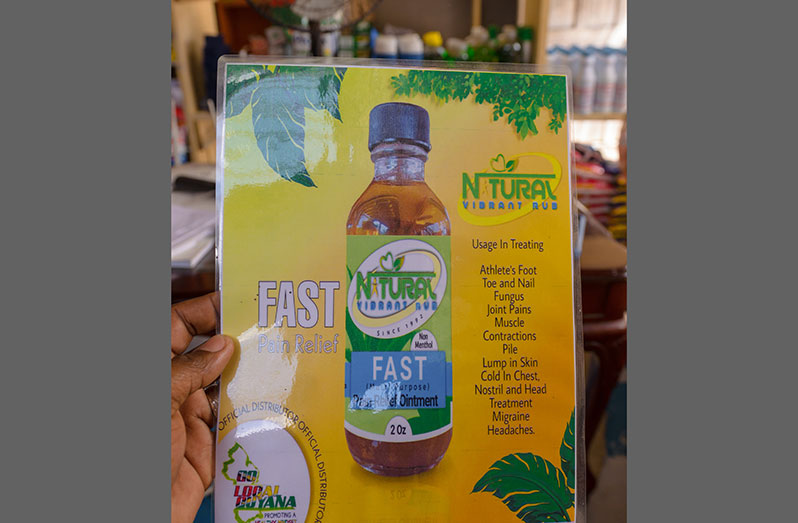 The product is labelled and comes in attractive packaging and is pocket-friendly.
Britton is originally from Victoria, East Coast Demerara and relocated to Silvertown more than 30 years ago when his family went there to settle.
He is the Chairman of the Community Development Council (CDC), which started just over a year ago, but hasn't been able to execute many community projects, because of conflicts at the community level.
Britton opened a shop on the lower flat of his two-storey house last April, and he has a mini supermarket setting where his prices are unbeatable.
"When the rains came and the place was flooded, I did not benefit from any flood relief like the others and I think that was not right when hampers were distributed in the village," he said.
He disclosed that when the main access road was upgraded before a section fell apart in the rainy season the bridges and walls of the drains were damaged and, in some cases, broken.
Britton said his bridge is yet to be repaired and poses a danger to life and limb.
Stacy Pinhiero, the seamstress
Stacy Pinhiero is a seamstress and a resident of Silvertown, Wismar, Linden, who was washing some white clothes at one of the natural springs in the village when the team visited.
The 46-year-old is also a part-time Community Infrastructure Improvement Project (CIIP) worker and she would clean drains and parapets in the community.
Pinhiero told the Pepperpot Magazine that she is originally from Liliendaal, East Coast Demerara, but relocated to Linden many years ago.
The mother of four related that she has a very simple life in Silvertown and things have been humble since her husband died in an accident in 1995.