THIS week the Pepperpot Magazine visited Silvertown village, which overlooks the Demerara River, at Wismar, Linden, Region 10 (Upper Demerara-Upper Berbice) to highlight the way of life of the locals.
Silvertown is a relatively large village and it is an uphill and downhill village with many nooks and crannies and very hospitable people.
The community is tucked away between Canvas City and Silver City.
It is said that the village got its name many decades ago when people came from all over the country to work in Linden.
They constructed aluminium houses in Silvertown directly opposite the bauxite factory, across the river, in McKenzie.
When the dust from the factory settled on those houses, it appeared as though it was silver; thus, the name derived.
Silvertown can be accessed via Burnham Drive as well, as well as from other parts of Linden, which is all connected.
A sign sits at the head of the village, which serves as an entrance with the village name, and the streets are one-vehicle ones.
The main access road was recently upgraded to an all-weather, paved road and the internal streets are full of potholes.
When the main access road was upgraded, the existing concrete drains were cleaned, and a new wall was built to prevent erosion.
The parapets were also cleaned through community-based initiatives by a group of residents, who have since formed a non-governmental organisation to foster development within the village.
Late last year, a section of the newly paved road had eroded through heavy rainfall, compounded by erosion.
This is a very clean village with just over 600 residents of mainly Afro-Guyanese ancestry and a lot of mixed-race people with a handful of Amerindians and a few East Indians.
Most of the locals have lived all their lives there and there are hardly any newcomers.
Several overseas-based Guyanese were back home to spend the holidays and were in the process of securing flights back where they came from.
Silvertown has four internal streets that go deep into the village, which has an uphill section which is very steep and there are dozens of people residing there, while most of the villagers live downhill.
Silvertown has electricity, potable water supply, landline phones, internet services but no government facilities which are accessed in neighbouring villages.
There is no health centre, schools or other agencies in Silvertown but a section at the rear of the community, which was a dump site, was converted into a recreation area with wooden seating accommodation.
The people of Silvertown are skilled professionals, who are multi-talented and they vary from truck drivers, miners, masons, carpenters, contractors, builders, private and public sector employees.
There is a handful of small-business owners who have shops in the village and there are several churches.
Silvertown is home to many sportsmen and women, including Marian Burnett and musicians such as First Born.
It is a very safe neighbourhood where the locals look out for each other, and it is said to be a close-knit community, a place where there are simply no strangers.
Silvertown is a place where the people are not afraid to speak about things and many welcomed the team and displayed their warm hospitality.
It is a village with more than three natural springs, where locals and visitors can have their fill of drinking water.
The people lead simple lives, and they are neighbourly and go about their daily routines in a peaceful manner.
Silvertown is a scenic place and a good place to raise a family.
Kevin Hope, the shop owner
Meanwhile, of the small business owners, Kevin Hope has lived all his life in the village and he has a shop that serves as the 'chill spot' for locals to meet and chat.
He sells groceries and other things, including food, daily, which is prepared under hygienic conditions and it is wholesome.
Hope has been residing in the village for the past 40 years and it is the only place he calls home and is comfortable.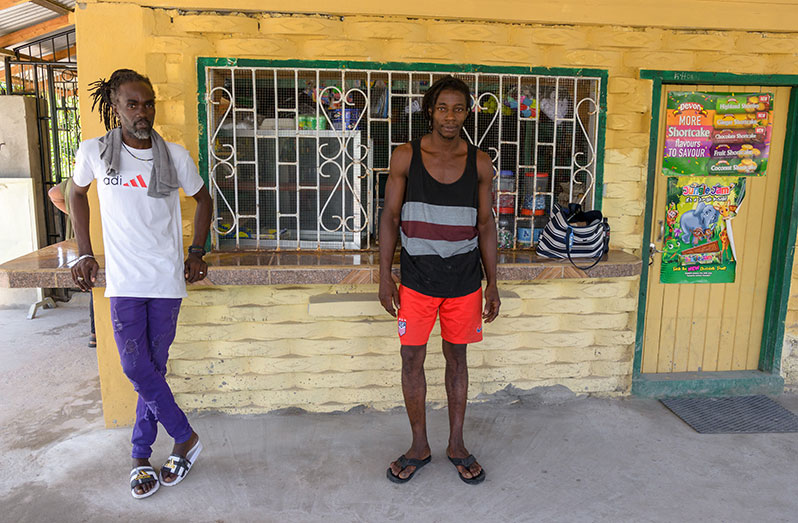 His home and shop sit on the brink of the main access road, just a short distance from Burnham Drive and it is a good location.
"This is a nice place to live, but we need a little development in terms of the streets; we had the main access road upgraded and that is good," he said.
Hope is a contractor and has his own tools and when he gets a job, he would usually employ young men from the village to assist him.
He does everything pertaining to construction and recently did some cement work to his residence where his shop is.
"I had a contract and that ended, so I am looking to get more contracts so I can get the youths involved in honest work around here," he said.
Hope is one of the friendliest persons and has an endearing personality as a small-business operator, whose shop always has customers.