A FATHER and his son are currently in custody at the Anna Regina Police Station, and a woman is being sought following the abduction of an Essequibo bus driver on Monday evening.
The victim, Imran Khan, aka "Panko", of Walton Hall in Region Two (Pomeroon-Supenaam), was dragged out of his parents' home by two known men around 19:30hrs. His hands were zip-tied before he was placed in the trunk of a car. He was then transported to the road leading to the Essequibo Technical Institute (ETI), where he badly beaten. Upon seeing a vehicle approaching, his abductors re-entered their vehicles and drove off.
The badly injured lad was taken to the police station and later transported to the Suddie Public Hospital.
His mother, Bhagpattie Khan, told the Guyana Chronicle that her son had, moments earlier, returned home from Georgetown, and was relaxing when he was attacked.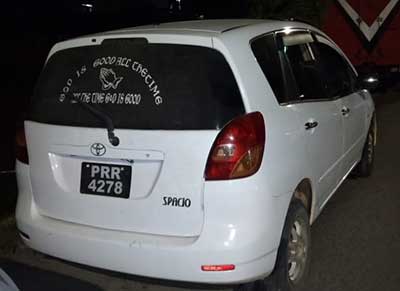 She recalled that she was in the kitchen when she heard two vehicles pull up in front of their gap. Two men entered her home and began pulling her son, who was shirtless, out of the building.
She recalled that she questioned the men about their intentions, and their response was that they were going to "kill" him.
On hearing that, the woman reportedly raised an alarm, but by then the men had re-entered their vehicles and sped off.
Bhagpattie told this publication that just before the men arrived, someone called her son to "hire" him to pick up "passengers" at Supenaam, but he sent his friend instead.
She said that the "passengers" asked the friend if he was "Panko", and when he responded in the negative, they drove off and went straight to her house. It is unclear at what point the second vehicle joined them.
"Is the same people that went to Supenaam that came to our house; they wanted to kill him at Supenaam, but their plan failed, so, instead, they came for him at his house," the terrified woman said.
She added that after "Panko" was taken, she called another son, and he attempted to intercept the two vehicles but was unsuccessful.
Meanwhile, "Panko", who has multiple bruises about his body, recounted how he was badly beaten by the two men and a woman.
He told the Guyana Chronicle that the woman and the two men hit him repeatedly with pieces of wood, a belt, and a gun. A cutlass was also used in the attack.
Reports are that "Panko" was accused of having a relationship with a 13-year-old relative of the suspects.
He, however, denied the allegation when asked about it by this publication.
Police have so far recovered a belt, zip ties, and one of the vehicles used by the abductors.