AFTER heavy rainfall and severe flooding for almost a month, the floodwater in Kwakwani, Region Ten (Upper Demerara-Berbice), is slowly receding, according to Regional Chairman Deron
Adams. Yearly, when the May-June rainy season comes, residents of Kwakwani would brace themselves for heavy torrential rainfall and light flooding.
However, this year, water levels rose above 15 feet, displacing almost 100 persons from their respective homes.
On Friday, Adams disclosed to this publication that though the approximately 18 inches of water is slowly receding, it is still at a relatively high level.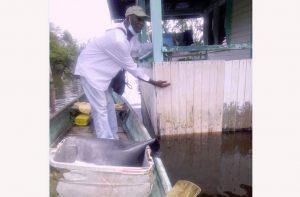 The waterfront area, which is separated from the Berbice River by a long stretch of road, and a sandbank, along with another area called Lamp Island, are currently the most severely affected in the community.
With dozens of homes near the waterfront inundated, shelters were set up at the Kwakwani Primary and Secondary schools, which are located more inland, and on higher ground.
These shelters are housing those flood-affected residents who are unable to stay with their relatives or friends. Up to press time on Friday, close to 100 persons were being housed at those shelters. Adding to the flood-related woes, the barge that would normally transport vehicles across the Berbice River to Kwakwani is currently inoperable, and persons have resorted to using speed boats, the regional chairman said. Former Regional Chairman, Mortimer Mingo had recently said that severe flooding is nothing new in Kwakwani, and he'd advised residents, particularly those residing near the waterfront, to relocate. During an interview with the Guyana Chronicle, Mingo had insisted that life will not return to normal, and that residents should expect the cycle of flooding to worsen in the future.