— Coalition gov't gave only 110 in five years
FROM 2015 to 2020, under the former administration, the Housing Ministry only allocated 110 lots on the Essequibo Coast and all were done in 2019, mere months before the 2020 General and Regional Elections. This is according to Minister of Housing and Water, Collin Croal, during his feature address on Friday, as the Housing Ministry held its second "Dream Realised 2021" housing drive in Anna Regina, Region Two.
"Forty-five lots were allocated in Onderneeming Phase two; 64 in Phase Three; and one in Charity. In five years, a measly 110 lots were allocated. Compare that to the 350 lots that are already distributed, and during this activity we will add 350 more," he told the gathering to a round of applause.
In fact, Minister Croal said since August 2 to present, Government has distributed over 4,300 house lots in mainly Regions Two, Three, Four and Six while over 600 certificate of titles and transports were processed.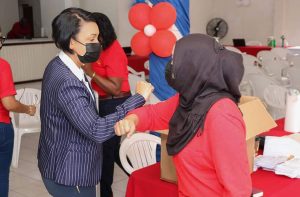 At the event, some Essequibians who applied for house lots over two decades ago received their lots.
The exercise will conclude today at the Anna Regina Municipal Tarmac. The two- activity which will see the allocation of 350 houselots for mainly Charity Housing Scheme Tract B St. Joseph and Tract A Buxton. Minister Croal and Minister within the Ministry of Housing and Water, Susan Rodrigues, are also on the ground facilitating one-on-one interactions with members of the public. Over $2 billion in infrastructure works will be done in the new schemes, and Minister Croal said that each of these schemes will be equipped with roads, drains, culverts, access bridges and a water distribution network. "The cost to develop the Buxton/St. Joseph scheme is $872M; Charity Squatting Area $628M and Onderneeming Phase Four $1.7 Billion while the cost of house lots are heavily subsidised by Government," he said.
Lots will be allocated for residential, industrial, commercial and religious buildings along with community facilities and public open spaces.
START BUILDING
"Now for those of you who will receive house lots today, I want to encourage you to seek out the banks present for assistance and financial guidance so that you can start building your homes as quickly as possible; you've waited a long time for this day. And be sure to speak with the insurance company about protecting your investment. My officers too are here so if there is anything we can do to help you, please speak with us. For those of you who are patiently waiting for your time, I promise you that we are doing everything we can to make the dream of owning your home a reality," he explained. He said that the allottees include persons who applied as far back as the 2000s and 2019 and the hardworking Central Housing and Planning Authority (CH&PA) team went above and beyond to ensure that all of the eligible applicants were notified.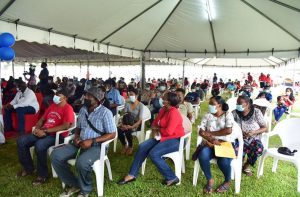 Unfortunately, he said those who were not contacted by the Housing Ministry's staff recently can be assured that their applications and information will remain in the Housing Ministry database and a public notice with their names will be published in the new week.
"I want to urge applicants to ensure that they update their information especially if they change addresses or phone numbers. I want to remind you to visit the ministry's website as well as that of the CH&PA; you will find valuable information including a link that will allow you to submit and or update your application," he underscored.
Meanwhile, he told the gathering that the wait that they have had to endure has bothered him greatly because of deliberate manipulation of information and incompetence under the former administration.
INTERVENTIONS
Despite the pandemic, he said the ministry has been able to incrementally reduce the backlog, introduce changes to the application process to make it easier and more efficient, strengthen regional housing offices, collaborated with the banking sector to offer more loans and removed VAT on building materials to counter price increases.
"We have established new housing developments and started the construction of necessary infrastructure which will enhance these new developing communities.
"We launched CESP [the Community Based Employment Stimulation Project], a block making project which will provide employment and income to small and medium entrepreneurs in vulnerable communities," he noted. He continued: "We've upgraded the Adequate Housing and Urban Accessibility Programme which will see 250 citizens who meet the qualification criteria receive core homes and 2,000 homeowners receive subsidies for home improvement. We continue to provide employment whenever possible in communities where our projects are being implemented by ensuring that people from those communities work on the projects; and just recently we turned the sod for a spanking new multi-purpose community centre in Sophia."
Minister within the Ministry of Housing and Water, Susan Rodrigues, said the housing sector creates employment, increases cash flow and stimulates the economy.
Further, she said government's aims of allocating 50,000 house lots is an ambitious target. Under the previous administration, just 7,000 house lots were distributed.
A father of two, Ken Shamsundar applied for a house lot over a decade ago and was extremely happy when he was given a lot in Charity.
Others allotted told this publication that it was one stage closer to finally owning a home and they were thankful for finally being chosen.
Also present at the housing drive were representatives of the banking sector: New Building Society (NBS), Republic Bank, GBTI, Bank of Baroda, and Demerara Bank, and in insurance – Nalico/Nafico.