THE relatives of 38-year-old merchant Waletta Rigby are appealing to the general public for information concerning her whereabouts, following a reported boat incident on the Takutu River.
Her mother Wavney August told reporters at her East Bank Berbice home on Wednesday afternoon that reports received indicated that her eldest child was in a boat with other passengers, when an incident occurred , which resulted in her daughter's goods being thrown overboard . The items included bottles of Blackstone rum and fish.
Reports from the Brazil border reveal that a small boat ferrying passengers had capsized. A suspected survivor reported that she held on to a tree for over 10 hours before being rescued. However, she does not know about the whereabouts of Rigby or the captain of the boat.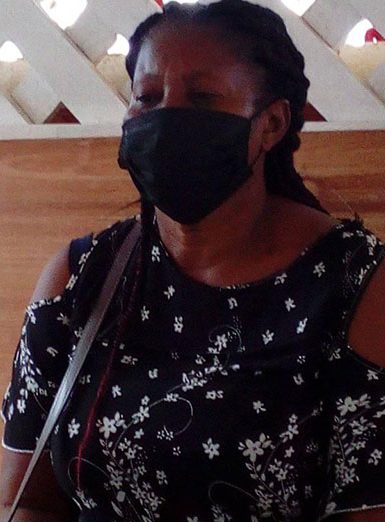 But August is of the opinion that the stories related to her are untrue, as there should have been evidence on the waterway. She believes her daughter may have been held against her will.
According to her, Rigby, a mother of six, among between Brazil, Venezuela, and Guyana and three years ago started a relationship with one "Jason." Together they bought and sold items and about two years ago, they moved to Venezuela, where they continued their trade.
August claimed that after contact was made with the police, she was told that the water level is extremely high, and as such, it is impossible to conduct a riverain search.
What is also worrying is that Rigby during a visit to Berbice just over a year ago had sneaked off with her 14-year-old daughter, who, from birth, was being cared for by her maternal grandmother. The whereabouts of that child is unknown, although it is suspected that she is in the company of "Jason."
Anyone with information about Rigby can contact her mother, Wavney August, on 6631937.