THE new Guyana Power and Light (GPL) substation, which is expected to boost the power supply of the Demerara-Berbice Interconnected System (DBIS) by 46.5 Megawatts (MW), is set for completion in June 2021, according to Minister within the Ministry of Public Works, Deodat Indar.
The 46.5 MW power supply is being generated by the five new US$41 million dual-fuel generating sets which arrived in Guyana on November 5, 2020.
The project, which is being constructed at GPL's Garden of Eden Power plant, East Bank Demerara, was initially slated to be completed this month; however Minister Indar, during a telephone interview with the Sunday Chronicle, said that there was some "slight" delay due to the changing weather pattern and significant rainy periods which halted important infrastructural works.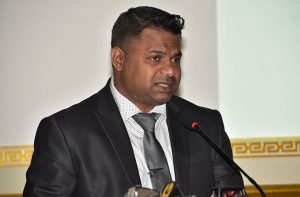 He noted, however, that the contractors and the government have been pushing ahead to ensure that Guyanese have better access to electricity.
"The project is progressing and we are having regular updates on it. Myself and the Prime Minister have also met with the contractors that are working with GPL on the project a few weeks back and we discussed some of the issues they had and tried to iron out some of the issues so that they can just finish the civil works. It's the civil works, the above-ground civil works, and the installation of the fuel tanks," Minister Indar said.
He explained that two phases of civil works were slated for the project – above surface and below surface civil works. According to the junior Public Works Minister, based on the size and weight of the generators, there is vibration that would occur, and, as such, significant below-surface civil works have to be completed to ensure that the vibration does not reach the surface. Currently, the below surface civil works have been completed and the above surface is close to completion.
Presently, GPL falls short of the total reserves needed in the system; the 46.5 megawatts that will be added, will be in keeping with the government's commitment to providing a more effective and accessible electricity system. The power company would be able to adequately handle the electricity demand.
Minister Indar said the new system would ensure revolving capacity to allow for maintenance of the other sets that were previously in GPL's power plants. He explained that the plant is strategically located at GPL's Garden of Eden location which is on the other side of the submarine cable, thereby allowing for balance in electricity distribution if the submarine cable goes out.
Additionally, it was recently disclosed that the plant is the beginning of the transition to natural gas, which will see a reduced cost to both the company and the businesses and households that utilise electricity from GPL.