COUNCILLORS of the Region Two Regional Democratic Council (RDC) recently pledged their support to the Mass Drug Administration (MDA) campaign to eliminate Lymphatic Filariasis (LF), commonly known as filaria.
This pledge was made during a February 10, 2021 meeting of the council where Regional Health Officer (RHO), Dr. Ranjeev Singh, informed that the campaign will be launched in the region on March 5.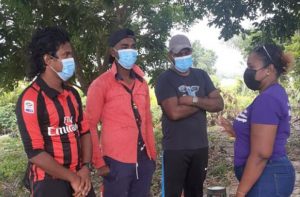 Speaking to his colleagues in the RDC boardroom, Dr. Singh said that the disease was a public health problem and as such, every community leader had a part to play in its elimination. He explained that Guyana has opted for the triple-drug therapy- Ivermectin, Diethylcarbamazine, and Albendazole (IDA) – in all the endemic areas and has vowed to achieve 100% geographical coverage.
Once the campaign is successful – that is attaining more than 65 % coverage – the Ministry of Health can move towards applying for a certification of elimination of Lymphatic Filariasis. Dr. Singh encouraged the community leaders who sit on the council to ensure that persons living within their communities consume the pills whenever the pill distributors visit them at their houses or workplaces.
Meanwhile, Region Two Chairperson, Vilma Da Silva, said that the region is one of the endemic areas, and, as such, she urged residents to support the campaign by taking the pills. De Silva reminded that filaria is the leading cause of disability and so persons should take the disease seriously.
The Prime Minister's representative and People's Progressive Party/Civic (PPP/C) councillor, Arnold Adams informed that he would be the first in the line to take the pills whenever the campaign is launched in the region.
"Everyone needs to participate in the campaign activities by taking the Filaria Pills to eliminate the disease. Region Two's participation is important for this second and final round as the region will be part of the campaign," said Adams, who is also the Chairman of the region's Health and Sanitation Committee.
Also speaking on the issue was Opposition Councillor, Mark Mc Lean, who explained that he too will be supporting the campaign by taking the pills; he used the opportunity to encourage others to do the same.
Lymphatic Filaria is a disease caused by a tiny worm, which is transmitted from person to person through the bite of infected Culex mosquitoes. During the campaign, trained pill distributors will be visiting communities or will be stationed at specific points across the region; they will be administering the triple-drug therapy to the eligible population. Individuals will be measured using a dose pole after which the appropriate dosage will be given.
Sensitisation has commenced in the region and is being led by the regional coordinators and the national supervisor. They are reaching out to members of the public and stakeholders to raise awareness about the programme.